Hank Aaron and Larry King Pass Away
On January 22, 2021, baseball legend Hank Aaron passed away at age 86. Aaron, who is second all time in home runs with 755, was a baseball pioneer, and was looked up to by many. Aaron began his career in the Negro Leagues with the Indianapolis Clowns, and after a stint in Puerto Rico, he signed with the Milwaukee Braves, who later moved to Atlanta where he spent 21 of his 23 MLB seasons. He signed with the Milwaukee Brewers for his final two seasons. His death was stated to be due to natural causes.
Not even two days later, on January 23, 2021, legendary journalist Larry King also passed away at the age of 87. King interviewed everyone from Katy Perry and LeBron James, to Vladimir Putin and the Dalai Lama. King hosted various different TV, radio, and talk shows across many different networks. After his departure from CNN in 2010, King signed a deal with Ora TV, where he hosted shows until he died. King had been hospitalized due to COVID-19, weeks before his death, and ultimately recovered, but died due to complications from Sepsis.
Both Aaron and King were extremely influential in their respective fields. Hank Aaron was born in Mobile, Alabama, as one of eight children. As a child, his family could not afford baseball gear, so he would hit bottle caps with a stick to practice. Aaron signed his first professional contract in 1951, at the age of 17, with the Indianapolis Clowns in the Negro Leagues. Months later, Aaron signed with the Boston Braves, shortly before they moved to Milwaukee in 1953. After being called up in 1954, he made his Major League debut with the Milwaukee Braves, where he spent 21 seasons of his career. He was inducted into the Baseball Hall of Fame in 1982, and earned the Presidential Medal of Freedom in 2002
Aaron set many records, though none were as famous as his 715th home run, the hit that surpassed Babe Ruth for most home runs of all time. Aaron would end up hitting 755 in his career, the now second most of all. He stood first for 41 years, until Barry Bonds hit his 756th in 2007. 
Aaron was also extremely involved in activism off the field. He started the Hank Aaron Chasing the Dream Foundation, a charity that gives to underprivileged youth so they can follow their dreams.
Aaron was an icon, on and off the field. He is survived by his wife Billye and their five children
.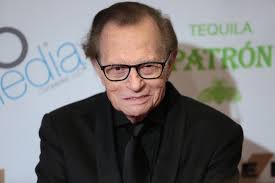 Larry King was born in New York City as the son of European immigrants. King began his storied career in Florida as a local sportscaster and interviewer in the 1950s. In 1978, he began his national call-in radio show, where he became famous nationwide. He began his career with CNN in 1985 as the host of 'Larry King Live'. According to The New York Times, King is estimated to have interviewed over 50,000 people in his career. From presidents and world leaders, to athletes and actors, King interviewed them all. King was famous for asking the questions his audience wanted answered.
King once stated in an interview with NPR "The less I know, the better. Now that sounds strange to people. Like, if you wrote a book, I wouldn't read the book before I interviewed you, because I would then know too much about the book. And I'm in the same boat as the audience; they haven't read the book."
King left CNN in 2010, he co-founded 'Ora Media' in 2012, where he continued his career until his death.
King is survived by his wife, Shawn Southwick, three sons, step-son, and numerous grandchildren and great-grandchildren.