Great Debate : The senior parking lot should not be a lottery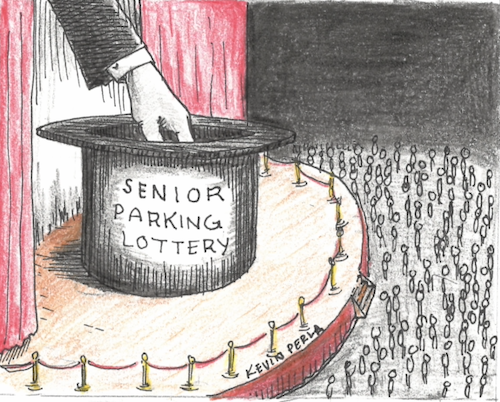 For the senior class of 2020, the parking lot is decided by a random lottery drawn by Dr. Corbett prior to the start of the school year.
This lottery is completely random and does not recognize how far kids live away from school. With around 160 parking spots in the lot, the lot fills up with drivers from Bernardsville, Bedminster, and Peapack and Gladstone.
The underlying issue with the parking lot is that it is a random lottery and students who live within 5 miles of the school can register in the lottery and receive a full-year parking spot and take away a spot from students who live farther away from the school.
Although I believe that the best option for the lot is not a random lottery, the random lottery works in the sense of an equal chance for students to get a parking spot. With each student being able to have an equal fair shot at getting a spot, a lottery adds equality for students when applying for a spot.
As a student who lives 13 miles away from school and every morning, I wake up and drive around 30-35 minutes to get to school just so I can have a half year spot does not make any sense to me while there are students who live in Bernardsville and 1-2 miles away from the school get a full year spot. Thus meaning that as a second-semester senior I would have to fight for a spot on Olcott while students who live within walking distance of the school get to pull into a spot.
In this situation, there is a difference between equity and equality. Students like myself and others live much farther away from the school and have to travel around half an hour just to not get to park in the parking lot.
Senior Finn Smith said, "I honestly do not understand why the parking lot is a lottery. Luckily I was fortunate enough to get a spot but I have friends who live near me in Gladstone who did not get a spot or only got a half year spot when it takes us about 20 minutes to get to school. I believe that the lottery should be abolished and it should be a first come first serve system that juniors enroll in at the end of their junior year."
Dr. Corbett who runs the parking lottery for seniors said, "When I first got here It was first come first serve but we were under 800 students with fewer spots and seniors to take spots but now the classes got bigger and we had troubles with all the seniors getting spots so Dr. Nigel and I decided on a lottery."
When asking Corbett about whether or not he would consider changing the lottery based on distance, "I would not be opposed to changing it based on distance on an honors system and how many miles away you live. Although, that will come with its problems because of the cut off distance of who does and who doesn't get a spot."
A solution to this very solvable issue is to continue the lottery for the parking lot but allow students who live a certain distance away from the school to have top priority in receiving a spot over students who live within walking distance of the school.
This would then allow students like myself to come to school and not have to worry about parking on Olcott before school and potentially receive lates to their first-period class, while still allowing all students to have an opportunity at receiving a spot. Although this could controversial for students who live very close to the school, they still would have an opportunity to get a spot plus they can still get to school and even get a spot on Olcott if they did not acquire a parking lot spot.
Senior Susan Oberschmidt said about the parking lot lottery, "I think the lottery is important but I do think sometimes those who apply for a spot are not in as much need for one as some of the students who live in Bedminster and far hills"
With the senior parking lot being a lottery and causing kids who live farther away to miss out on spots in the parking lot, there needs to be changed to this system to account for students who live farther away to get a spot.