Great Debate: Should spring break be decoupled from Easter?
April 27, 2022
Recent discussions at Board of Education meetings have revolved around the contentious issue, where should
Spring Break fall throughout the year? As many surrounding school districts now have Spring Break as a
fixed week in March, there have been discussions of changing BHS's Spring Break to be so as well. Two students debate this heated topic, attempting to answer the question: Should spring break be separated from Easter?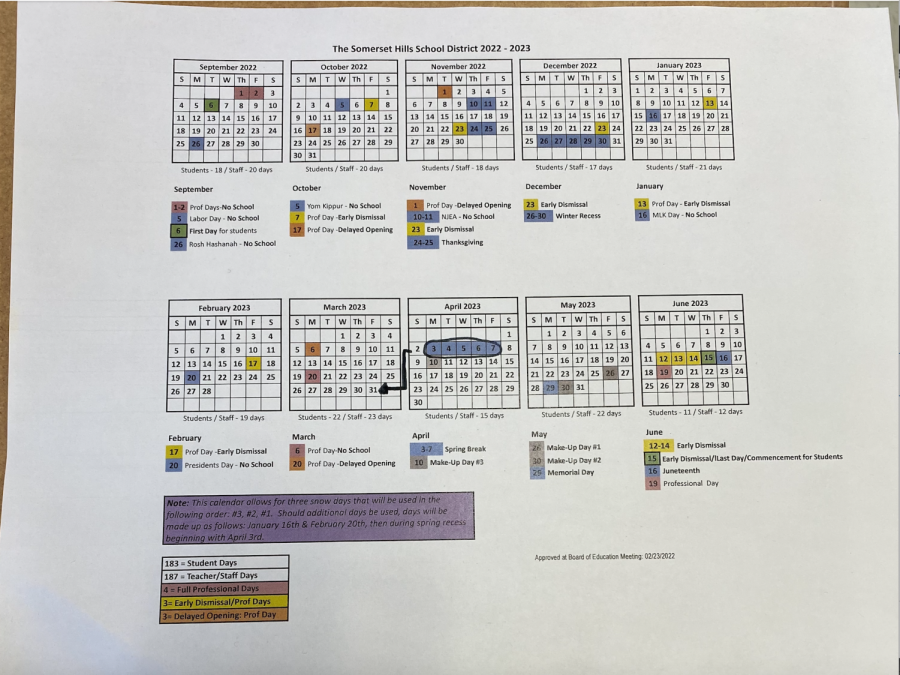 Decoupling spring break from Easter will be more consistent and manageable for students
As spring break sneaks up on us, students are counting down the days until a rewarding week off from school.
The past three months have consisted of long school days and minimal time off from school. Students and staff are ready for a break, and they have been ready for a long time.
At the Board of Education meeting on February 23, board members discussed decoupling spring break from Easter meaning spring break would be separate from Easter.
Currently, the week of spring break changes each year to align with Easter- the week prior, or the week after. However, as the date of this holiday varies from year to year, there is a lot of inconsistency with our spring break schedule.
Last year, Easter fell on April 4th, while this year, it falls on the 17th. Thus, our spring break is shifted a significant amount. Considering winter break remains the same week every year because the date of Christmas never changes, why wouldn't we instill a fixed week for spring break?
This year, students and teachers have had 62 school days between Christmas and Easter break. That is 14 consecutive weeks with merely three days off- one in January, February, and March. Additionally, this year, we have only had a single snow day. This is extremely difficult for students and staff because there is no time to relax, destress, and prepare for tasking weeks.
The time between Thanksgiving and Christmas is significantly shorter- 19 school days. While four weeks is manageable for BHS, the span between Christmas and spring break is not.
This span is an extremely busy time of year for students and staff. Between the NJGPA for juniors, the PSAT's, SATs, and ACTs, along with a difficult workload in classes, winter and spring sports, the spring musical, and many other activities, the time from December to April is nonstop.
Thus, shifting spring break earlier would break up this busy time, and ultimately make it more bearable for students and staff.
The Board of Education discussed possibly instilling spring break towards the end of March- the second to last, or last week. If we compare this week to 2022, spring break would be two to three weeks earlier. This would have been much more tolerable for students as there would not have been such a large gap of time between December and April.
Yes, pushing spring break earlier would mean a longer span of time from after break until the end of the school year. However, we would have a long weekend for Easter and memorial day to break up this span. Additionally, students and staff can look forward to the end of the school year, and the last week of school, although we have finals, consists of only half days.
Ms. Butler, responsible for composing the SHSD calendar, recognizes that "the development of each year's calendar represents a new challenge due to when days fall within the calendar." If we instilled a fixed spring break, this would take away the challenge of coinciding spring break with Easter and working other days off around this.
Ms. Butler also mentions that "there are several holidays that the calendar generally observes." One of these holidays is Good Friday. Usually Good Friday falls within spring break, but if the break was decoupled, our district can solve this problem by implementing a long weekend for Easter. This would include a day off for Good Friday, leading up to the weekend off for Easter. In this way, we would get the best of both worlds- a week off for spring break, and a long weekend for Easter.
Currently, we have three snow days built into our calendar around Memorial Day weekend. If we were to use these snow days, we would not receive added days off around memorial day, but if we did not have any snow days, our weekend would be extended.
This same concept can be applied to Easter. Building these snow days around Easter would allow for the chance of an extended Easter break.
Overall, Ms. Butler states that "anything is possible when crafting a calendar, but the bottom line is we need to provide 180 days of instruction for our students." Decoupling spring break is definitely something to consider, and would ultimately benefit students and staff.
Leave a Comment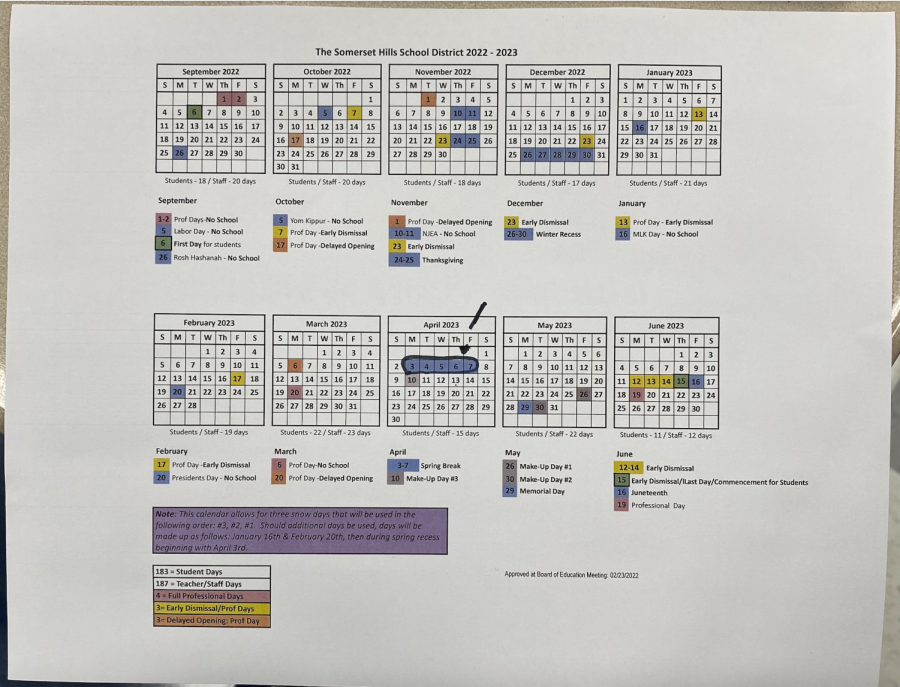 Keeping spring break aligned with Easter prevents further schedule complications
With spring break just around the corner, and warmer weather upon us, the same, yearly school calendar question arrives: Why does Easter fall on spring break? And will there ever be a change?
When making the school calendar, there are many considerations that go into creating the schedule. The State of New Jersey requires students to attend 180 days of school, with the collective bargaining agreement between the Board of Education and the Somerset Hills Education Association states that teachers must be present for 184 days each year as they have four professional development days in addition to the 180 days with students.
The Board of Education creates three emergency snow days as well, which are given back to the students if not used.
When asking Dr. Butler, creator of the school year calendar, about the considerations that go into the placement of the holiday breaks and days off for students, she said that "there are several holidays that the calendar generally observes: Labor Day, Yom Kippur, Rosh Hashanah, two days for the Teachers' Convention, two days for Thanksgiving, a winter break including Christmas and New Years Day, Martin Luther King, Jr. Day, Presidents' Day, Good Friday, spring break, and Memorial Day. The development of each year's calendar represents a new challenge due to when days fall within the calendar. I generally present the BOE several drafts of possible calendars based upon these parameters and feedback."
Due to the change in date of Easter every year, the school calendar and spring break must revolve around the holiday. Despite the yearly movement of Easter, Dr. Butler says that "the bottom line is [we] need to provide 180 days of instruction for our students," or days will be added to the school year later in June.
Regardless of wanting to move spring break and detaching it from Easter, the week off from school is inclusive of Good Friday (which the school consistently has off for), creating a week long break for the administration and students. Dr. Butler says that "an example might be if the Board feels that students and staff need a break earlier in the calendar."
When asking Dr. Butler if we were to separate Easter from Spring Break, and how that would potentially affect the rest of the school calendar, she said that "each calendar presents new challenges. If the spring break did not include Good Friday and we wanted to have Good Friday off as well, we would make up for that day somewhere else in the calendar."
Shifting back to how the school calendar is created and finalized, Good Friday is vital to the creation of the spring break schedule. Despite students wanting to separate Easter from the week of spring break, students have expressed why they wouldn't want to add on school days later in June.
Dane Costabile '22 says that "[I'd] rather keep the spring break the way it is because I don't want it to impact the schedule in June. I wouldn't want to get out of school any later in June because that would take away days in the summer, and push back senior events like graduation."
With a change coming to the school start date in the fall (Somerset Hills School District now starting prior to Labor Day), moving Easter away from spring break could also stretch out the school year. Summer vacation would be shortened by spreading out the week of spring break – affecting the calendar in June.
Sydney Kaul '23 adds that "having the school year start after labor day already pushes the end date far into June. By decoupling spring break and Easter break, our last day of school would be even further into June. Our summer break would be cut even shorter than it already is, so I would much rather have a longer summer break and keep spring break the way it is."
If one thing is certain, it's that students at Bernards High School don't want summer break to begin any later in June – especially with the 2022-2023 school year starting before Labor Day next year.
A schedule change to Easter would also have to be agreed upon by Bedminster School. Dr. Butler says that the school has to align spring break with Bedminster because "[Bedminster School] is our sending district. We share students and we are all part of one community so while both districts create their own calendars we do so in consultation with one another, taking all opinions into consideration."
The possibility of separating Easter from spring break isn't to be ruled out of the picture, but a change now with the next school year beginning before Labor Day and having to move around snow days to create an "Easter weekend" is very unlikely.
When asking the question of there being any chance we could see a future change to the Somerset Hills School District spring break schedule, Dr. Butler says "anything is possible when crafting a calendar, but the bottom line is we need to provide 180 days of instruction for our students."
Leave a Comment