Boys Basketball Season Begins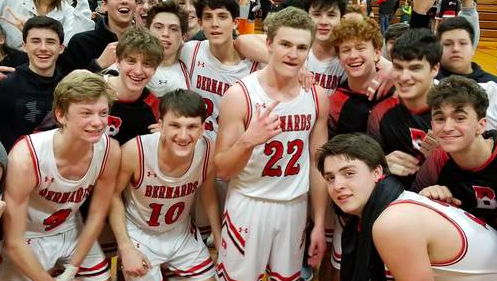 This pandemic has brought many challenges and changes into the students' lives at BHS. Sports have been severely impacted, including the 2020-2021 basketball season. A modified winter season was expected after the outcome of BHS' fall sports, but it is still disheartening to see athletes lose their full season. During typical seasons prior to COVID-19, practices begin right after Thanksgiving break. However, this year, it began on January 11th. Players are stripped of vital practice time to fix their skills as well as learning to work with their teammates. Not only have they lost practices, but the team has cut out many games from their season. Normally, the basketball team will play around sixteen games along with the playoffs. With the new modified schedule, they will only play ten games with no chance to win the playoffs. 
Losing the opportunity to win playoffs was a major upset to the athletes. Although it was expected, it is still harsh and aggravating news. As competitive teams, that is the one major goal they work towards all season. Winning normal season games are still rewarding, but being able to hold such a high title is incomparable. The news has affected the senior players the most. It is their last season and their last chance to prove that they are worthy of the title. They were stripped of their final season to make memories and play the sport they love. These upcoming games will be the last time many players step on to a court and definitely the last time to play with their teammates of years. 
Senior Andrew Infusino explains how they "have dedicated years to trying to be the best, and not having playoffs is definitely hard on [them]."
Not only has the season been cut short, but the entire atmosphere of the season has changed immensely. Fans are no longer allowed at games. Having an audience and supporters are a key factor to a team's success. Being able to show off the team's talent and hardwork is a huge reward on top of winning games. It is not as motivating nor exciting to play a game when no one is there to watch. 
Senior Andrew Infusino shares that "it was very upsetting news that affected the team. It is definitely not the same playing in an empty gym." 
On top of having empty bleachers, music during practices is not permitted now. While this may seem minor, having music in the background at practice has a great impact on the environment. Music is known to put people in better moods as well as keeping them active. Music fills the silence and passes the time quickly. This was just another rule that piled on to the already long list of restrictive guidelines. 
Sophomore Dan Costabile shares "it's very weird without the music. I feel like a key component to practice is constantly missing." Everything about the 2021 basketball season has been altered, and it is very difficult to deal with change, especially when the change has a negative impact. These players have been taught to work as a team and overcome any obstacles in their path, but this is not the season any players had hoped for.