Marching Band Plays on to Victory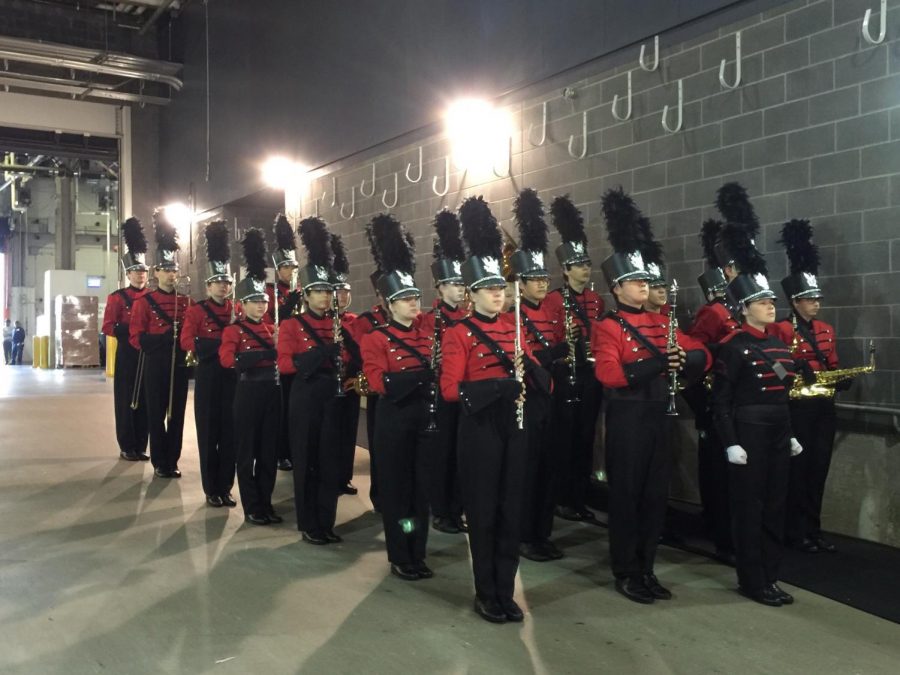 Harrison Lesnik, Staff Writer
October 31, 2017
The Marching band had a busy October, performing in 3 events over the course of the month. The three events included the Somerville High School Pioneer Marching Band Festival in Somerville, the 73rd annual Columbus Day Parade in New York City, and the prestigious Yamaha Cup at Metlife Stadium in East Rutherford. They dominated the competition, getting a clean sweep, winning first place at Somerville, Metlife, and New York.
The first event of the month was the Somerville High School Pioneer Marching Band Festival on Saturday, October 7. In this Event, Bernards took first place overall, as well as winning the awards for best visual, color guard, percussion, and overall effects over Delaware Valley high school in group the II-A Competition. Their Production for this tournament was called "Along Came a Spider."
The second event that they performed in this month was the 73rd Annual Columbus Day Parade in New York City on Monday, October 9. This is the second year the marching band has performed in the parade, and after a first place finish last year, they followed it up with a first place performance this year. The historic parade aired on WABC New York, giving the tri-state area an opportunity to listen to Bernards and the competing bands.
And to end the month, they performed in the Yamaha Cup at Metlife Stadium on Saturday, October 14, 2017. They competed against Park Ridge, Delaware Valley, Bloomfield, and Bordentown high schools in group II-A. After a first place performance in their group last year, in which they also won best music, and best overall effect in their group, Bernards retained their championship with a winning performance in Group II-A at Metlife, getting a score of 82.1375. All in all, 67 bands performed at Metlife in the competition, down from 61 last year.
Drum Major Emily Certisimo said, "After each performance, I knew we had given our best one yet, but that doesn't erase the anticipation and nervousness we all have before the awards ceremony." She continued, saying, "But after the band was announced for first place, it was replaced with the exciting energy coming from the whole band." They will look to carry that energy onto their future performances and win more awards.
Band director Mark Noonan was also very happy with his band's performance, saying, "I think the band did very well given that they had a lot of new members." He also said that "the nucleus we had really kept the band together, and pushed it along a high level of achievement and a great comfort level to bring the band together as a family." He also went on to say that he thinks that the performance at the Yamaha Cup was their best performance of the year, as "the outcome of the scores really show how much they've improved this year." Noonan also says that "performing in front of large crowds in a nationally known public venue (Metlife) is always a big help for preparing for places like Disney" when asked how this would help prepare for their performances there in March. When asked how the loss of seniors will impact the band next year, he said that it will affect them "but what they've done to prepare them for the future will give them a positive outcome." He went on to say that "last year we had a strong group of seniors, and it helped prepare the band for this year. He also said that twelve hours of practice a week and the kids meeting on their own time helped them for their performances
It was a successful month for the marching band, taking multiple awards home, as they concluded the month as the victors of three competitions in a clean sweep. They will look to carry on that momentum in the future.