Grammy's Face Backlash for 2020 Nominations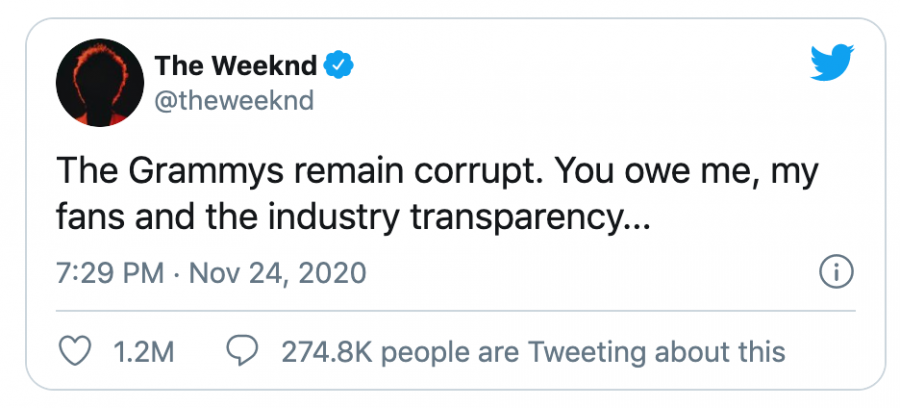 In late November when the nominations for the 2020 Grammy's were announced, the world was angry and shocked at some of the artists and works that were snubbed. It only took a few hours for #TheGrammy'sAreOverParty to begin trending on Twitter.
Notable artists fans feel artists were snubbed include The Weeknd, Fiona Apple, BTS, Ban Bunny, and more.
The Weeknd even took to social media to share his thoughts, stating, "The Grammys remain corrupt. You owe me, my fans and the industry the transparency…"
The singer received no nominations for his album After Hours despite the critical acclaim he received and having one of the most popular songs of the year, "Blinding Lights".
Many people began to question the legitimacy of the awards, claiming they are corrupt, and even rigged against certain groups of people. Some Twitter users discussed how they felt that the Grammy's had become a popularity contest, rather than honoring the best music.
Some were outraged that Justin Beiber received a nomination for Best Pop Solo Performance for his song, "Yummy," which was widely disliked, while other smaller artists with more critically acclaimed music were ignored and did not receive any nominations.
Despite this backlash, the Grammy's will still air on January 31, 2021 on CBS. There is still room for potential improvement and fans can hope that in the following years, they will do a better job of recognizing smaller artists and their success, as well as choosing nominations that accurately reflect what the public wish to see.