The Ski Slopes; How to Slalom Around Restrictions and Find the Best Mountains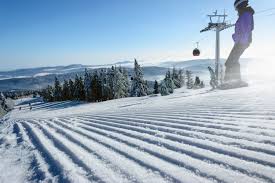 Over the past 8 months many of us have been largely in quarantine due to COVID-19 restrictions, which led many to find new hobbies and interests. Skiing and snowboarding are great activities to try over the winter months if you've been stuck at home, and are obtainable for many skill levels and ages. Although we don't have many slopes in our state, New Jersey is a great hub for skiing on the east coast, since we are in close range to neighboring states Pennsylvania and New York, which both have plenty of slopes to choose from in a reasonable distance. Next time you have a weekend free of plans, skiing could be the memory-packed get-away for you. 
For skiers who aren't looking for a day trip to Pennsylvania, Campgaw Mountain Ski Area is the ideal resort. Containing Ski slopes and snow tubing, this 12 trail mountain is a cheap, convenient option for beginners. Another great mountain for beginners is Shawnee Mountain, which although bigger, contains a bunny slope unattached from the more daring trails. Shawnee is farther away, in Pennsylvania, but is better if you are looking for a more family friendly resort.
Skiers with more experience often like to go to bigger parks with more challenging slopes. Camelback Resort is a right up your alley if you have skiing experience and are looking for some more challenging hills. Camelback is a larger mountain and is the best option if you don't mind more people on the slopes with you. 
Although an outdoor activity, ski resorts do have COVID restrictions, easily found on Ski PA. Restrictions include: required face coverings, physical distancing will be in effect, daily employee wellness checks and increased cleaning and disinfection. With so many other businesses and activities closed and now having an assortment of resorts to choose from, this is the ideal year to start skiing and try something new. Skiing provides healthy exercise, an unforgettable memory and infrastructure for local companies; next long weekend you have, buy some ski passes and hit the slopes for an excitement packed trip, full of great memories.