Toca Vez, a household name, has astonished the local restaurant world. Some may have once known the Morristown Road (Route 202) in Basking Ridge establishment as The Vine, but now it has transformed into an upscale- experience.
Officially opened on May 16th, 2023 by Enjoy with Gusto Hospitality Group, owner Afrim Berisha has opened many restaurants in his career. His most known restaurant local to Bernardsville, Bistro Seven Three, a European bistro has always set the bar for restaurants to follow. Now Toca Vez Steakhouse is stepping up the game.
"
The entirety of TocaVez Steakhouse gives it a wow factor if you ask me, there's something for everyone
— Josue Juarez
The nearly-century-old building has been completely renovated inside and out. Taking about a year to renovate, to accommodate the ambiance of the Mexican-inspired steakhouse. A two-level restaurant with custom-designed light fixtures and furniture, custom-painted murals, multiple designed bars, and an exposed kitchen that restauranters can sit near while food is prepared.
The metalwork and woodworking is an in-house job as the wood is hand-welded and created by people who curate the menu, too. Josue Juarez, a manager at Toca Vez and long-term partner with Enjoy with Gusto Hospitality Group, describes Toca Vez as "you can also look at our bar and Patio areas, both are excellent and provide a different ambiance for everyone, the cocktail menu alone is something to admire as we have a variety of cocktails that everyone can enjoy but the views themselves are something to admire, we put a lot of thought and love into our restaurants and we are proud to say that."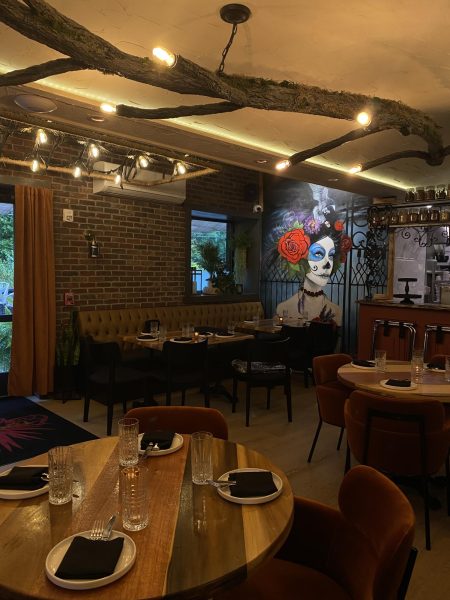 Toca Vez does not just have steak and large meat meals, they also have fresh homemade chips and guacamole, tacos, enchiladas of the day, ceviche, tomahawk, and Quesadillas as their core meals.
Kathleen Bonanno, a junior at Bernards High School 25', is a hostess at Toca Vez and describes working there as a "warm, friendly, vibrant, environment" with "everyone having a common understanding of how to make each other's jobs easier."
They seat about 100 people every day and through the weekends about 300 people may reserve a table. Toca Vez emphasizes having a comfortable attitude toward anyone. They try to seat anyone who may not have a table as every night is not packed.
A restaurant-goer who enjoyed their experience described "customer service from the valet parking, hosts and hostesses, wait staff and kitchen were top notch. The room has a nice feel and the food was outstanding."
There are hand-crafted cocktails and dishes, no smoke and mirrors, and open-kitchen plans, bars, and patios where anyone can choose to enjoy the views of the area, the appealing interior, and vibrant decorations.
If people do not know what to expect at this restaurant, just know that many Jets players have recently dined here like the Jets quarterback, Zach Wilson, and tight end CJ Uzomah.