Spring Intramural basketball season is back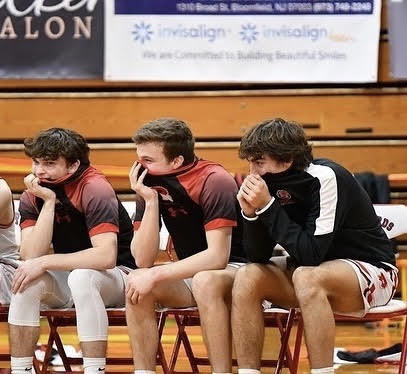 The intramural basketball league is back, and better than ever! An intramural league is a sport competitively played between teams that are formed by a community, in this case, the Bernards High School. The season begins on March 21 as games will be played on Mondays and Wednesdays, with two games at 5:15 pm and a prime time matchup at 6:15 pm, although times are subject to change. In the league, there are six different teams in the north and south divisions. 
For the North division, Shane Rich is the coach of the Syracuse University team, Dane Costabile is the coach of Connecticut, and Nico Botti is the coach for the Raritan Valley Community College team. 
In the south division, there is Jake Clark rolling with Alabama University, JJ Zaun is the coach of Nebraska University, and Vincent White is the coach of Kentucky University. 
These six teams drafted their players on February 20th, via Instagram Live. Star player Ryan Schuh spoke about what his outlook was for what he believes to be "the intramural leagues most underrated team," the Raritan Valley Community College team. When asking Ryan what his opinion was on how far his team would get through this tournament, he believes that they "can go all the way in the tournament, but it all comes down to our team's execution of plays and defense." 
As these teams were formed in February, there was confusion whether or not the players on each team would be able to work together in order to win it all. Ryan said that "the greatest asset of the Raritan Valley Community College team, him and his teammates height. He explained that "the shortest guy on our team is six foot," and thinks that it is greatly going to benefit his team against other competition. 
Ryan made sure to leave off compliments to his coach, Nico Botti. His thoughts on Nico as a coach were that he has "a great basketball mind, and really knows his way around the game," He believes that with Nico's "leadership skills and top notch athletic absolutists, we will be a force to be reckoned with." The real point of these games is for the love of the game and having fun with your friends, and that is what we are most excited to see this upcoming season, competitive fun between groups of friends. We can't wait to see who wins it all!