College football Championship ends with crazy finish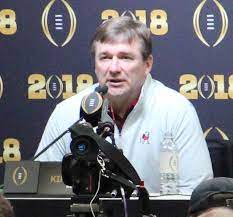 On January 10th, 2022, the Georgia Bulldogs defeated the Alabama Crimson Tide 33-18 to win the College Football Playoff National Championship. The title marks head coach Kirby Smart's first as head coach of the Bulldogs, and Georgia's first title since 1980.
Georgia, the #3 seed, defeated #2 Michigan 34-11 in the semifinal round, sending them to their first championship appearance since 2018, where they eventually would lose to Alabama. They would also be their opponent this year, as they defeated #4 Cincinnati 27-6 to reach the title game. The two teams met in the SEC Championship game, where Alabama won 41-24, defeating a then undefeated Georgia squad.
The first half of the game was very defensive, as the Crimson Tide led 6-9 at halftime, with neither team scoring a touchdown the entire half. Georgia had a defensive score taken off the board after it was ruled that Alabama quarterback Bryce Young threw an incomplete pass, rather than fumbling the ball. However, the second half is where things really started to get exciting.
On Alabama's first drive of the second half, Bryce Young threw an interception to Georgia DB Christopher Smith. However, the Bulldogs were unable to capitalize on the turnover and were forced to punt. However, after an Alabama missed field goal and a James Cook 67 yard run, Georgia was set up at the Alabama 13 yard line, and would eventually score, taking a 13-9 lead.
Alabama would march down the field and kick a field goal, making it a one point game. However, on the next drive they would force and recover a Stetson Bennett fumble, and would go on to score a touchdown, taking an 18-13 lead early in the 4th quarter. Unfortunately for the Tide, it would be their last score of the game, and the season.
On the very next drive, Georgia would get to the Alabama 40 yard line, before Stetson Bennett found Adonai Mitchell in the endzone for a Bulldogs touchdown, taking the lead, 19-18. Georgia never looked back from here, as Stetson Bennett would find Brock Bowers for another touchdown.
On the next drive, Bryce Young would throw another interception, this time being returned by Kelee Ringo for a 79 yard touchdown, sealing the game for Georgia.
Stetson Bennett was named MVP of the game, finishing with a statline of 17/26 on passing attempts, 224 passing yards, and two passing touchdowns. Kirby Smart wins his first championship as a head coach, and Nick Saban falls to 7-3 in national championship games.
The title is Georgia's first since 1980, and just their third title in program history, with their first coming in 1942.
Leave a Comment