Browns release Odell Beckham Jr.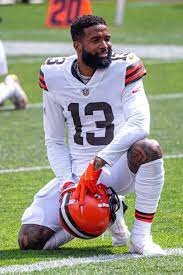 After an extremely rocky and tumultuous tenure, the Cleveland Browns have released star wide receiver Odell Beckham Jr. after two and a half seasons with the team.
Beckham, 28, was acquired from the Giants in March 2019, alongside defensive end Olivier Vernon, in exchange for safety Jabrill Peppers, guard Kevin Zeitler, a 2019 first round pick, used on nose tackle Dexter Lawrence, and a 2019 3rd round pick, used on linebacker Oshane Ximenes. 
Over the past several days, there has been much controversy surrounding Beckham. He was reportedly not speaking to anyone at Browns practices, and was asked to not show up to practices by Browns head coach Kevin Stefanski. Along with this, Beckham's father, Odell Beckham Sr., posted an eleven minute video to his Instagram of Browns quarterback Baker Mayfield not throwing to Beckham Jr. while he was seemingly open on multiple occasions.
During Beckham's time with the Browns, the team was oftentimes considered better off without him. In 2018, the Browns finished 7-8-1, and Baker Mayfield broke the record for touchdown passes by a rookie. The Browns acquired Beckham in the following offseason, and the team and Baker regressed. The Browns finished with a 6-10 record, and Mayfield had a touchdown to interception ratio of 22-21, a significant drop off from the previous season's 27-14 ratio. 
In 2020, Beckham tore his ACL, and while in the games he played the Browns did have a record of 5-2, Beckham did not get involved in the team's offense much, with the most receptions he had in a game being 5, and only amassing 3 touchdowns. Finally, in 2021, he played in 6 games, only getting 17 receptions and 232 receiving yards. After Cleveland's game with the Steelers, in which he only had one target for a reception and six yards, the Browns waved Beckham.
As of now, Beckham has cleared waivers and has yet to sign with another team. There have been a few teams contending to sign Beckham, with the Packers, Chiefs, Patriots, Saints, and Seahawks all coming up in reports. However, Beckham is expected to take his time with his decision, and nothing is expected to happen throughout the remainder of the week.