The New Rotate and Drop Schedule: What Do the Students Think?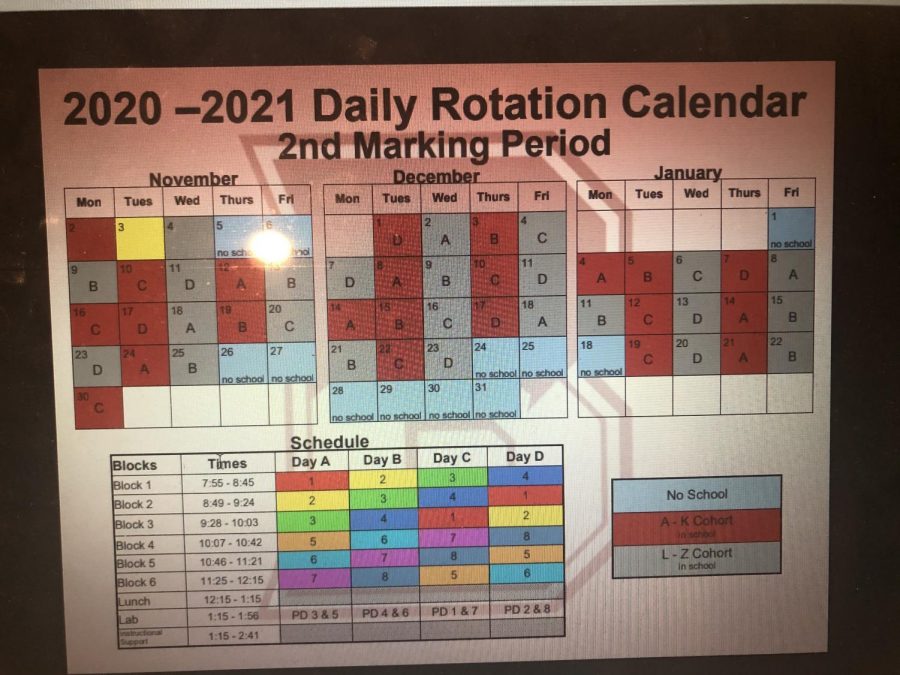 As we enter the second marking period, Bernards continues to adapt throughout these confusing times. While the hybrid schedule remains in place, students are now able to attend in-person school on Mondays, instead of the previous schedule that had everyone participating in all-virtual school the first day of the week.
To better understand how Bernards students feel about these schedule changes, 175 staff and students were surveyed, highlighting the differences between how some people feel. About 65% of staff and students indicated that they prefer in-person learning, while 35% said they prefer virtual learning. When asked if students and staff prefer a half-day schedule, (7:55-12:15) or a later start similar to a delayed opening, (9:45-2:40) the results once again overwhelmingly showed a preference for an early start. About 83% of those surveyed said they preferred starting at 7:55 and getting out earlier, while 13% preferred the late start, and just 4% preferred a full day of school. 
Students share how they feel about schedule changes, "I do like the rotate and drop schedule, but I feel like it would be a lot easier for both the students and teachers if it were based on the day rather than an A/B/C/D block, so that it's consistent and not super confusing", said Anna Rekatas, class of 2023. 
Tim Griffin, class of 2021 stated, "I think the rotate/drop schedule was a really good idea but it should not have been implemented this year, there's just not enough teaching time". 
Others described their preference towards either virtual or in-person learning, "I believe that In person instruction is imperative to a proper education. I believe the school should do all that they could so we can have more in person instruction", said John Tober, class of 2024. 
Overall, despite the changes, Bernards has done an excellent job adapting to these confusing times. Thank you to the students, teachers, and administrators who have helped keep our school community strong this year!