Bernards Football opens the season against Hillside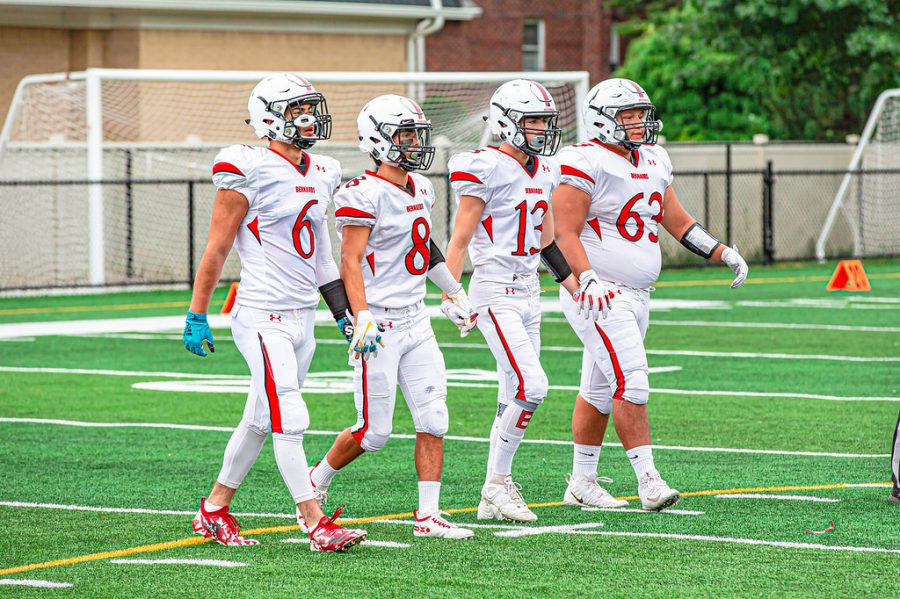 In their season opener, the football team took a tragic 20-7 loss to the 11th ranked football team in New Jersey, Hillside. The three-hour fifteen-minute NJ.com Game of the Week took game was a long, hard battle chock with penalties. The Saturday afternoon game had over 300 yards of combined penalties; Bernards had 15 flags for 150 yards, Hillside had 16 flags for 190 yards. 
The game was overall an overall sloppy but hard-hitting ordeal, marked by constant stoppages for heat-related injuries and ejections. Hillside's Nahree Biggins, a three-star wide receiver, and Nazareth Henry, a starting lineman, both were ejected from the game due to unsportsmanlike play. 
Teddy Gouldin snuck in for a 1-yard touchdown in the second quarter to give Bernards a 7-0 lead early in the game. This touchdown ended a 59-yard drive with Steven Lopez kicking the extra point. 
Hillside soon recovered, however, and scored two quick touchdowns before halftime. 
The interminable third quarter, which lasted almost an hour, was not a good one for Bernards. Late in the third on fourth down, deep in Bernards territory and trailing by a touchdown, Simoneau elected to try for the first down. The play started with Gouldin in a shotgun formation attempting to get Hillside to jump offsides, Gouldin then moved to an under-center formation and tried for the sneak! The call was close and the Mountaineers were short by about 4 inches. 
Billotti led the Mountaineers' offense in receiving yards, with 99, along with Ritchie for 27 and Gouldin for 48 yards on 12 carries, and he completed 12 of 27 passes for 147 yards.
Luke Burns topped the Mountaineer defense with 20 tackles, followed by Gavin Chieff with 10, Evan Farlow and AJ Mino with 8 each, and Ritchie and Tantleff both had 6. 
Max Gray has been named a nominee for the Heart of a Giant award. The athletes nominated are by their coaches for dedication, teamwork, commitment, will, and character. The winner of the Heart of the Giant is selected by sending a video saying why they have a Heart of a Giant. The winner will receive the award on the field at Metlife Stadium before a New York Giants home game. All finalists and honorable mention's high school football program will receive $1,000 and the winner's program receiving $10,000. 
They hosted Spotswood on Friday, September 20 in a very anticipated home opener. The Mountaineers offense exploded for 28 points in the first quarter in the 44-0 victory. Joey Bilotti caught 5 receptions for 134 yards and 3 touchdowns and a punt return touchdown. The defense was led by Gavin Chieff and Luke Burns. Evan Farlow also had a pick on the day.