Three juniors commit to D1 schools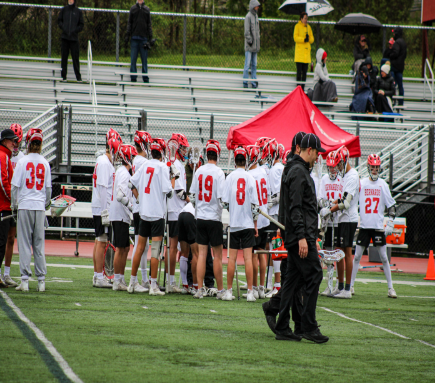 With the lacrosse season approaching in just a few months, the Mountaineers junior class is looking stronger than ever. As of September 1st, the college recruitment window has opened for the class of 2024, allowing all players to form relationships with college coaches, eventually reaching a verbal commitment. Juniors Caden Kirst, Charlie Hunnewell, and David Brothers had all sparked major interest from Division I schools. Through the week of December 6th, these three players had finally committed. Caden Kirst to Rutgers University, Charlie Hunnewell to Long Island University, and David Brothers to Wagner University. All fall, spring, and summer seasons, these three have worked non-stop for their school and club lacrosse teams in front of coaches to prove what they can do at the next level. With Charlie Hunnewell proving himself as a sophomore for the mountaineers with 28 points, David Brothers racking up 40 goals and 21 assists, and Caden Kirst lighting it up as a goalie, they will continue to show what they are capable of this spring. 
Caden Kirst, continuing the legacy of the Kirst Family, has committed to one of the top programs in the country in Rutgers University. Following his father, his brothers Kyle and Connor, Caden will look to make an impact on the Rutgers lacrosse team following his senior year in 2024. Caden has made a significant impact on the Bernards lacrosse team both on and off the field. On the field, Caden shows up to practice always ready to work, keeping the rest of the team focused on the team's goals. On Game Day, Caden never fails to bring the energy and make sure that everyone is ready to play. Caden looks forward to a breakout season this year, as he "feels great about next season". "We have a great group of young guys that will be strong and work well as a team". As one of the hardest-working athletes in the area, Caden was nothing but determined to make this commitment happen. Caden says, "My commitment process was tough, as I didn't get many looks through September and October. Later near Thanksgiving, I got contacted by Rutgers and visited, and absolutely loved it." He then committed 2 days later. Caden will continue to prepare for the Division I level with the help of his brothers, who have shown him what it is like to be at the Division I level, and will continue to guide him through these tough 4 years.
Just a few days later, Charlie Hunnewell had finalized his commitment to play as a Shark at Long Island University. Charlie is a very skilled midfielder who plays with grit, never running out of energy while additionally making a huge impact off of the field. Charlie described his commitment process that began in September as a long and stressful couple of months. Both academically and athletically, Charlie knows that he will have to continue working hard to excel at the next level. As a player with top-tier talent in his grade, he felt that LIU was "a great school and opportunity that fits me both academically and athletically." As the school season approaches in March, Charlie has a very strong take on it. "We are winning the state championship, you heard it here first," he says. Alongside his teammates, Charlie is extremely excited to play this spring. 
Additionally, lefty attackman David Brothers has committed to play Division I lacrosse at Wagner College. David has proved a very powerful player with a shot that can dominate some of the top goalies in the state. David has major high school experience as a Varsity starter his freshman year, where he put up 40 goals, showing what he is capable of. Joining Bernards alumni Patrick Caldwell on the Wagner lacrosse team, David feels that Wagner is simply the perfect fit for him, meeting all of his criteria both on and off the field. David as well feels very solid about next season. "We have a good group of experienced players coming back and I am hopeful that we can bring home some championships," he says. Looking forward to adding onto his 127 point total this season, David Brothers will continue to prove why he is a Division I talent.