Far Hills welcomes new mens shop, Hans Clothier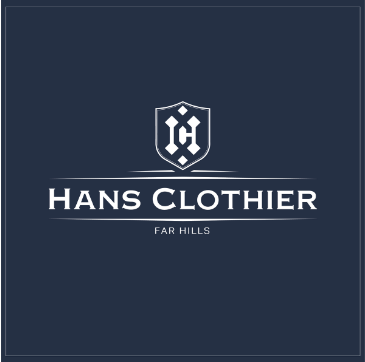 Hans Clothier is a must-visit family owned men's boutique. Store owners, Rachel and Morgan Colwell have recently opened their new store, adding the perfect addition to Far Hills and the surrounding areas. Having much intellect in mens fashion, Rachel and Morgan have created the perfect space that is both welcoming and thoughtfully designed to not only include a dressing room space, but other items as well to accompany their clothing. 
Hans Clothier is open to the public each week from Tuesday through Saturday, between the hours of 10am and 6pm, and closed Sunday and Monday. The in-store shop provides the essentials for parking and other amenities parallel to their store. The address is listed as following, 49 US-202 building 1 suite 2, Far Hills, NJ 07931. 
Hans Clothier also includes an online website. The shop covers all bases into the typical mens wardrobe: shirts, jackets, over shirts, pullovers, sweaters, pants, jeans, and brands to best fit one's needs. The accessories range from bags and backpacks to sunglasses and socks. Additionally, clothes and accessories are categorized by seasons, with the winter season and accessories dropped as of now. 
Being such a fresh store, it is uncommon to receive such a high rating and review early on, but Hans Clothier has received a 5.0 rating. 
So what makes Hans Clothier so impressive besides the great quality of clothing and gifts? Many say the two sisters behind the operation are truly dedicated to their fashion and giving customers the best experience while shopping. Rachel and Morgan are Basking Ridge natives, helping provide their customers with more insight into the clothing and accessory styles and trends men in this area have, need, and desire. The name Hans is their fathers middle name, and they honor his German heritage and person with their store. 
Before running the store, both owners worked at Lilly Pulitzer, gaining more knowledge about general fashion before opening up a store of their own. In addition to joining Lilly Pulitzer early on, they both studied fashion merchandising.
Reasons for opening up an all men's store was decided upon different factors. Both Rachel and Morgan realized the vast difference in the amount of stores dedicated to women when compared to men, and also that Somerset Hills was in desperate need of men's apparel. 
Rachel and Morgan have a great selection and customer service, definitely worth checking out if you are looking for an outfit or gift. As a family-owned business, clothing for fathers, sons, uncles, and fiancés have all been thoroughly laid out. They have made the store interactive, fun, and creative, hosting many events since opening. 
Make your way down to Hans Clothier, especially for those men who want to avoid going to a busy mall or retail, as Hans provides the classics for any occasion.