Artist of the Issue: Michael Leanza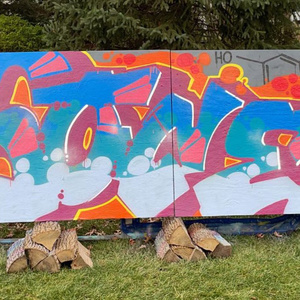 BHS has been revitalizing its walls with dazzling artwork. Michael Leanza, class of '22 has been working on the latest mural. He remembers how "the idea of putting a mark on BHS, literally, was something I always had wanted to do as a freshman." As a senior Michael Leanza finally got the opportunity.
Michael Leanza is creating a spectacularly unique artwork in the BHS hallways, through his graffiti style font. He describes how "it is simple, [but] it definitely has some flare that most school murals don't have. His style of graffiti evolved from gernerally Miami based artists, he says, but he watched old documentaries about how artists pioneered graffiti style letter design to inspire him and his work. his style of I think that my style of graffiti.
Michael Leanza speaks of the beauty in Graffiti's form, as it"is such a speculative art form, its definition is so incredibly broad that just about anything related to letter work can be considered as graffiti."
He makes his artwork unique because while "each artist uses the same primary techniques, [he] would have to say that their moniker is what sets them apart. A graffiti artist's moniker is the name they paint, over and over again, in different styles and shapes etc. It can be anything from your own name to some name that holds any significance in your life. [He] would say my own moniker is what makes my graffiti unique to me."
His favorite type of art is any form of graffiti lettering. He normally uses plywood as his main medium panels since they are bigger than a regular canvas would all him to paint. His panels can stretch up to 64 feet. Michael Leanza's favorite painting "is with abstract letters, just letting your mind wander as your hand controls the can."
When asked what inspires Michael Leanza, he says that "personally, my absolute best work comes when I am passionate about the thing that I am doing. With painting, because it brings me so much joy learning and improving my skills as an artist is really not strenuous effort. However, like anything else in life, being an artist takes time. It has taken me several years to get to the point where I am now, and I still continue to find new things that I can improve on. Even now, I am a far way away from the graffiti artist I know I can be. Nonetheless, I would say to some extent I am a patient person, when you want to achieve greatness in anything that you do, patience with the learning process is vital to your success."
Michael Leanza used to do graphic design often before delving into graffiti artwork. He made a couple sketches for a company called Fetch!- an elderly grocery delivery service. He describes that his "final product came out to this kind of wacky style of lettering that [he] fell in love with. From them on out [he] knew that I wanted to pursue graffiti.
Michael Leanza also has a website to display his amazing artwork at
https://michael-leanza.format.com/