Popular NFL commentators sign new deals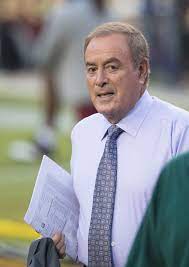 Over the last few weeks, many popular NFL commentators have left their channels and signed big deals with new channels. Former FOX announcers Joe Buck and Troy Aikman have moved over to Monday Night Football. Joe Buck reportedly signed a 5 year $92.5 million contract and Aikman a 5 year $18.5 million contract. Al Michaels left Sunday Night Football to join Kirk Herbstreit on Thursday Night Football on Amazon Prime Video. Herbstreit will be paid at least 10 million dollars by Amazon. Michael's contract is reported to be 3 years for $10-15 million per year. As of now FOX sports has not signed anyone to replace Buck and Aikman who have been together since 2002. CBS will stick with Jim Nantz and Tony Romo, Nantz recently resigned to stay with CBS. Romo's contract goes until 2030, making $17.5 million a year. Al Michaels had been calling Sunday Night Football with NBC since 2006 and his final game was Super Bowl LVI in February. Michaels hinted at this being his final game as in the beginning of the game he told long time partner Cris Collinsworth to "slide in for one final time". At the end he gave a shout out to NBC's sideline reporter Michelle Tafoya and then seemed to say his final farewell to Collinsworth. He turned to him and said, "You and I, don't know what our future holds, pal, but 13 phenomenal years and we get this game." Collinsworth replied, "You're the best. Just the best" and that for now, is the end of the legendary duo, Al Michaels and Cris Collinsworth.
Joe Buck and Troy Aikman have moved over from FOX to ESPN, after 21 years as FOX's number one duo. Buck had been with FOX for almost 30 years, calling 6 SuperBowls and was the main guy for the World Series. ESPN has been trying to find a good team for the Monday Night Football cast, and it seems they finally did.
Leave a Comment