Matt Lesnik's 3rd Annual NFL mock draft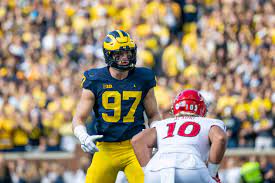 Jacksonville Jaguars: Aidan Hutchitson, Edge Rusher, Michigan
At this point, Hutchinson is the consensus #1 pick after a monster season at Michigan, where he put up 14 sacks on the season. After spending money to fix up the offensive line in free agency, the Jaguars decide to go defense first overall.
Detroit Lions: Kyle Hamilton, Safety, Notre Dame
Arguably the best and most complete player in the draft, Hamilton goes #2 to the Lions. Should the Lions take Hamilton, he would be the highest drafted safety since Sean Taylor in 2004. The Lions would patch up a hole in their defense with the selection.
Houston Texans: Ikem Ekwonu, Tackle, North Carolina State
Following the Deshaun Watson trade, the Texans have decided to build around 2021 third round pick Davis Mills, and there is no better way to do that than take the best offensive tackle in the draft, getting Mills an anchor on the O-line for years to come.
New York Jets: Kayvon Thibodeaux, Edge Rusher, Oregon
The Jets patched a lot of holes in free agency, but one need they did not fill was bringing in a pass rusher. Thibodeaux brings a pass-rushing force the Jets have not had since Muhammad Wilkerson in the early-2010s and is just what the team needs.
New York Giants: Evan Neal, Tackle. Alabama
Early in the offseason, Giants owner John Mara claimed the Giants had "done everything possible to screw [Daniel Jones] up." He would be completely right about that, and there would be no better way to make up for that than to get him a good offensive tackle to pair with Andrew Thomas.
Carolina Panthers: Charles Cross, Tackle, Mississippi State
While Carolina could easily take a quarterback, or even trade down here, their offensive line was really bad last year, and with Taylor Moton taking one tackle stop, Cross fills in on the left side, even if he doesn't know who he'll be blocking for. Though it might be a reach, Carolina has to go with Cross.
New York Giants (from Chicago): Travon Walker, Edge Rusher, Georgia
Every Giants Super Bowl run has been built on the foundation of a strong attack on the quarterback. With Azeez Ojulari showing promise during his rookie season, it would be smart for the Giants to pair him with someone on the opposite side.
Atlanta Falcons: Drake London, Wide Receiver, USC
Following the suspension of Calvin Ridley, the Falcons receiving core became arguably the league's worst. Despite many holes in the defense, receiver is an instant need in an offense suddenly led by Marcus Mariota.
Seattle Seahawks (from Denver): Ahmad 'Sauce' Gardner, Cornerback, Cincinnati
The Seahawks secondary is far from what it was during the 'Legion of Boom' era of the team, and with the entering a seemingly brutal rebuild, building the defense back up might be a smart thing to do.
New York Jets (from Seattle): Derek Stingley Jr., Cornerback, LSU
With the trade of Tyreek Hill to the Dolphins, the AFC East now has Hill, his teammate Jaylen Waddle, and Stefon Diggs. The Jets currently do not have a defensive back to keep up with any of them, and despite injury concerns, the Jets have to go with Stingley at 10.
Washington Commanders: Trent McDuffie, Cornerback, Washington
The Commanders have a top 3 pass rushing unit in the league, assuming Chase Young comes back healthy. However, their secondary was so bad last year, it completely negated just how good the D-Line was. McDuffie can be a big help to one of the league's worst secondaries.
Minnesota Vikings: Tyler Linderbaum, Center, Iowa
As Garrett Bradbury heavily regressed this season, being benched for Mason Cole, his replacement would come in the place of Linderbaum, who is considered one of the best Center prospects ever.
Houston Texans (from Cleveland): Garrett Wilson, Wide Receiver, Ohio State
Another pick to help out Mills, Wilson comes in as his number one target for years to come. He joins Nico Collins and Brevin Jordan as young weapons for Mills to throw to.
Baltimore Ravens: Jordan Davis, Defensive Lineman, Georgia
The second player to go from Georgia's championship winning 2021 defense, Davis had freakish combine numbers for a player his size, and with Baltimore needing to patch up the interior, they could select Davis at 14.
Philadelphia Eagles (from Miami): Nakobe Dean, Linebacker, Georgia
With the first of their two first round picks, the Eagles go with another member of the 2021 Bulldogs defense in Dean, who helps improve their defense. The Eagles get what they would hope to be a staple in their defense for years to come.
New Orleans Saints (from Philadelphia): Chris Olave, Wide Receiver, Ohio State
The Saints traded up with the Eagles, and one thing they still don't have is a deep threat or a reliable number one receiver, as Michael Thomas struggles to stay on the field. Olavie would be just what the Saints need, and they get him at 16.
Los Angeles Chargers: Devonte Wyatt, Defensive Lineman, Georgia
The Chargers defense held them back a ton last year, and they have addressed that this offseason. They brought in J.C. Jackson, Khalil Mack, and Sebastian Joseph-Day for help, and they go with another defensive oriented pick at 18, taking Wyatt to help with their interior line.
Philadelphia Eagles (From New Orleans): George Karlaftis, Edge Rusher, Purdue
With their second first round pick, the Eagles select George Karlaftis to help with their pass rush. They addressed the need this offseason, signing Hasson Reddick and re-signing Josh Sweat during the season, but Karlaftis fills out a good rotation.
New Orleans Saints (From Philadelphia): Bernhard Raimann, Tackle, Central Michigan
With the loss of Terron Armstead to Miami, the Saints are left without a left tackle. With their QB being Jameis Winston coming off an ACL tear, protecting him should be the number one priority, and they address that with Raimann.
Pittsburgh Steelers: Malik Willis, Quarterback, Liberty
Though they just signed Mitch Trubisky, he is more of a stopgap QB, and taking Willis to be the guy for the future would be smart for Pittsburgh. In a QB class that is considered generally weak, Willis at #20 does not seem like a bad move for a team moving on from Big Ben.
New England Patriots: Devin Lloyd, Linebacker, Utah
The Patriots did basically nothing in free agency, and filled virtually zero holes. Here, they have a chance to do that, as Dont'a Hightower remains a free agent and is unlikely to return, Lloyd takes his spot.
Green Bay Packers (from Las Vegas): Trevor Penning, Tackle, Northern Iowa
Following the Davante Adams trade, the Packers have two main needs, and they both involve Aaron Rodgers: a tackle to block for him, and a receiver to throw to. Here he gets the first, as the Pack continue to build back up the offense.
Arizona Cardinals: Andrew Booth Jr., Cornerback, Clemson
Third year cornerback Byron Murphy really started to come into his own this year, and while the Cardinals secondary did not allow a lot of passing yards this year, being bottom 10 in passing yards allowed, there is still room for improvement, and improvement is what they get with Booth.
Dallas Cowboys: Kaiir Elam, Cornerback, Florida
The Cowboys used their entire draft last year on defense, and it paid off, as they went from one of the worst defenses in the league to one of the best. The Cowboys continue to build on their stellar defense, getting a CB to pair with Trevon Diggs.
Buffalo Bills: Jameson Williams, Wide Receiver, Alabama
Had he not gotten hurt in the National Championship game, he would be long gone by now, but his stock takes a hit due to concerns about his knee. If healthy, however, Buffalo gets a steal, and a good pairing with Stefon Diggs.
Tennessee Titans: Zion Johnson, Guard, Boston College
The Titans allowed 47 sacks last season, which ranked them 7th in the league. That along with the fact they just released starting guard Roger Saffold, puts them in prime position to take Johnson at 26.
Tampa Bay Buccaneers: Kenyon Green, Guard, Texas A&M
Following the 2021 season, the Buccaneers lost both their starting guards, as Ali Marpet announced his surprise retirement and Alex Cappa signed with the Bengals. While they filled one of those spots by trading for Shaq Mason of the Patriots, they still have one spot open, and that is where Green would slide in.
Green Bay Packers: Treylon Burks, Wide Receiver, Arkansas
Here, the Packers fill the other of the two Aaron Rodgers related needs. They lack a number one receiver following the Davante Adams trade, and while Burks won't fill the gaping hole Adams leaves, he is someone for Rodgers to throw to for the next few seasons.
Kansas City Chiefs (from SF): Skyy Moore, Wide receiver, Western Michigan
The Tyreek Hill trade leaves the Chiefs with a receiving core of Mecole Hardman, Juju Smith-Schuster, and Marquez Valdes-Scantling. Not terrible, but a big hole is left. Much like Burks with Adams, Moore won't patch the hole permanently, but he'll stop the leak for the immediate future.
Kansas City Chiefs: Jermaine Johnson II, Edge Rusher, Florida State
This is a best player available case for the Chiefs, as they fill their offensive hole, as well as their hole at safety, so while pass rush isn't necessarily a weakness, it could be improved upon, and that is what they do with Johnson.
Cincinnati Bengals: Daxton Hill, Cornerback, Michigan
The Bengals put their attention into the offensive line during free agency, with their main priority being keeping Joe Burrow upright. However, they do have a hole in the secondary, as they lack a shutdown corner. They don't even really need one, but just need someone better than Eli Apple, and that is what Daxton Hill gives them.
Detroit Lions (from LA Rams): Kenny Pickett, Quarterback, Pittsburgh
The Lions go into the 2022 season with Jared Goff at QB, who comes off a less than stellar 2021 season. While serviceable, Goff is by no means the answer in Detroit, and Pickett, who is arguably the most talented QB in the class, very well could be. While there are concerns about his hand size, players like Joe Burrow have proven that not to be an issue.
Leave a Comment