Pandemic Recovery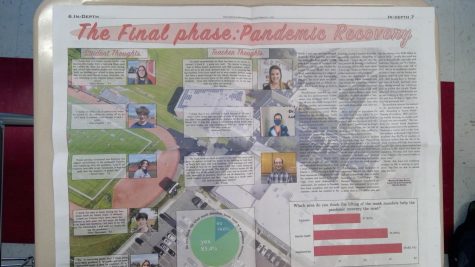 Nearly 2 years ago, our lives changed drastically. What once was two exciting weeks off school quickly turned into three months of isolation and confusion. Life after that became unknown territory. Masks were mandated, social distancing was enforced, and academic life was dramatically adjusted. The world spent two grueling years asking with no definite answer: When would things go back to normal?
    Abandonment crowded our lives after the first announcement of quarantine rules in March 2020. Countries all over the world changed their everyday routines and created countless mandates and government laws in hopes of stopping the spread. While attempting to alleviate one health crisis through quarantining, the isolation created another health crisis: the decline of mental health. The PubMed Central states, "Quarantine and social distancing are necessary measures to prevent the virus from spreading but also lead to elevated levels of loneliness and social isolation." Masks, social distancing, and the fear of going outside triggered the slight inability to socialize, which took a toll on people of all ages simultaneously. 
     Only this month, March 2022, restrictions began to ease. Finally, the wish of not being forced to wear a mask at school was granted. As of March 7, 2022, wearing a mask has been announced as an option for both the students and faculty at Bernards High. Even amid challenging circumstances, the students in Bernards have been compliant with the mask mandate, which has resulted in the hopes of starting a recovery from this unsettling pandemic. According to "nlm.com", "Given the fact that the very process of learning is facilitated by emotions (this is their main raison d´être), face masks are likely to cause some interference with pedagogy." Now, the deprivation of seeing smiles amongst fellow classmates and close friends has at last been restored. Students are now permitted to interact with each other, without the need to stay a certain distance away from each other. Teachers can teach a "normal" class again. They can see the expressions on their students' faces, they can build relationships with their students. Missy Lecciso, an interviewee for the New York Times, states, "It is a relief things are starting to get back to normal, and that we can see each other fully again." Teachers are no longer limited to a half-full class, or half of their students' faces, with muffled responses or black zoom screens. Charlie Greco, a fellow student at Bernards High says, "Unmasking in school has made it a lot easier to connect with my teachers and, quite honestly, served as the final relevant barrier removed to return to a normal education." Students and teachers alike are both witnessing the recovery of covid not that the mask mandate is lifted. 
    Furthermore, small businesses or restaurants that are not chains have suffered economically due to covid. According to "CNBC.com", "The National Restaurant Association estimates that compared to pre-pandemic levels, restaurant employment is down close to 2.5 million jobs and that the industry lost $240 billion in sales in 2020." Locally, this trend was seen in Bernardsville, especially with Starbucks, Chipotle, and The Station. Starbucks had to close early Fall of 2021 due to an insufficient number of workers there, and the Station just recently switched back from "to-go only" after having done so throughout most of Covid. Starbucks went from closing around two o'clock pm back to around five o'clock. Thankfully, both of these establishments  are up and running as they were pre-covid, and they are able to regain what they had previously lost. 
     The pandemic recovery has assisted in the psychological standpoint as well.  According to "Active Minds", "Among all students, 38% said having trouble focusing on studies and/or work was most stressful." This confirms the mental health depression that has occured due to the pandemic. However, a survey with results from the students at Bernards High School displayed that 68.7% of students at Bernards believe that the lift of the mask mandate will help their mental health. This survey demonstrates how students in this school feel about the pandemic recovery, and how much it has helped in the mental health of teens today. 
    Finally, this loud and confusing moment in life is starting to quiet down, and lives are able to rebuild what was lost.