Bernards Hockey continues to impress, advance to Charlotte Cup final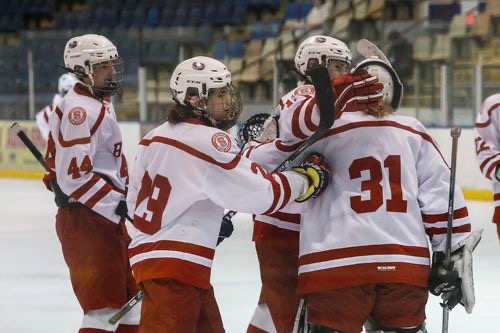 The Bernards hockey team has continued to impress this season. With a record of 13-3-3, meaning twelve wins, three ties, and three losses, the team has picked up right where they left off last season.
Baylyn Shankman, one of the team's varsity goalies, has been unbelievable, with an average of 23 saves per game and 272 saves overall. "There is a lot of talent and camaraderie on the team, so we're all having a really good time this season, especially since we are doing really well," Baylyn proclaims. The team is looking forward to the playoffs and hopefully the state tournament. Baylyn Shankman believes that they will get there. Kate Nicolai is the other varsity goalie for Bernards, as well as the JV forward (1st line).
Tanner Clemson, a junior at Bernards currently, has aided the hockey team in its success. He is the varsity top scorer, with a season total of 24 goals, 20 assists, and 44 points so far. He says "the most memorable part of this year so far was my first game of the season against Morris Catholic. It was the first game of my high school career and was a ton of fun."
However, talent doesn't just come from Bernards. Somerville and Middlesex students have been crucial parts of the Bernards Hockey team. Jimmy Hathaway is one of the team's top scorers, along with team captain and starting defenseman Aidan Gallagher, as well as the dynamic duo, the Leonard twins. The other captains are Chris Derogatis (Somerville), Maile Carifa (Bernards), and Aidan Brown (Bernards). Tanner Clemson adds his input, saying "our hockey program is very unique in the way that it's not just Bernards Kids. We combine with Somerville and Middlesex, and it creates an awesome dynamic in the locker room that other sports can't recreate."
Sunday, February 8th's The game against Bridgewater-Raritan was a loss, ending in a score of 3-2. Last Sunday, february 11, 2022 at 7:45 pm, the hockey team played Morris Catholic (which has a record of 5-10-3 thus far) in the Charlotte Cup, Semifinal Round. Bernards won with a score of 11-1, bringing them to the Charlotte Cup final against High Point. This game is scheduled for February 16, 2022 at 7:45 pm. Come to future games to support our team!
Leave a Comment