Holiday pop up store arrives in Bernardsville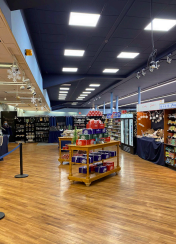 This holiday season has brought a new visitor to town. The void in the King's supermarket was just recently filled by Italian Products and Beyond after more than a year of vacancy. The store typically sells in warehouses with set locations, but this location is a "pop-up shop." Samantha Burns, the location manager, said, "We were looking for a suitable place to distribute and we saw this as our best option." The company was founded in Italy but has expanded to Elizabeth, New Jersey, and Bernardsville.
Italian Products and Beyond sells high quality, gourmet, and foreign goods. There is no shortage of products in Italian Products and Beyond. Inside the store there is an item that will fill every craving. Burns said, "We sell Italian specialty imported goods. We also stock Portugese and Scandinavian goods."
Products sold include high quality vinegars, dressings, tomato products, pastas, wines, spreads, jams, pantones, fish, and sauces. Their chocolates, nut spreads, and sweets are among the most purchased items. Trying items that are able to be eaten uncooked is encouraged by the store. Most items found in the glass cabinet to the left of the entrance will be happily served on a trying spoon when requested.
Gift products are a large focal point for the company. Everything in the store makes a very unique gift item being high quality, exotic, and well prepared. The presentation of the products in the store ensures great attention to detail and helps customers have peace of mind that products are not only made with care but are also authentic. The store offers a gift service that allows easy planning and shipping of products to people you know. A customer, with the optional help of an employee, can pick and customize gift boxes. These gift boxes can be sent across America to relatives and friends for a nice surprise. Being that it is the holiday season, it would be a tasteful way of showing your close family and friends a sign of appreciation.
A welcomed return for next year may be up in the air for the company. Burns said, "Certainly wouldn't put it (returning) out of the question. The biggest deciding factor is whether or not the space is in use." Visitors are high for the store seeing 70 to 80 customers a day. High quality sellers often see less customers than say a supermarket would because the store is not for everyday or value items. By this the margin for customers is fairly high. Fewer customers were expected by the staff and exceeded expectations by a fair margin.
Italian Products and Beyond has surely not disappointed with their imported, first-rate, products. It is worth the time to stop and take a look at the interestingly exotic pop-up shop.
Leave a Comment