NHL Season Exciting as Ever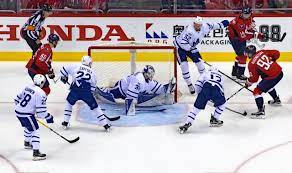 After months of waiting, the NHL season is finally in full swing, and it has not disappointed. With a new team added, a legend chasing a goals record and two teammates having historic seasons, the NHL has not looked this exciting in a long time.
We start with the Seattle Kraken, an expansion franchise that was not given any expectations for this year, and should be thankful for that. They have looked abysmal and hold only 11 points in 18 games this season, as this is clearly a year for them to get their footing and build for the future. Unlike the Kraken, the Carolina Hurricanes have looked like the most dangerous team so far this season. With the best defense in hockey and a dangerous attacking tandem of Sebastian Aho and Andrei Svechnikov, the Hurricanes have accumulated 29 points in just 17 games, tied for the best in the NHL. The other team tied with the Hurricanes is the Florida Panthers, who have certainly taken a different path to the top. After starting the season on an eight game winning streak, the Panthers fired coach Joel Quenneville. The firing came after allegations came forward during his time as the Chicago Blackhawks coach, where there was alleged sexual assault towards a member of the team. Nonetheless, the Panthers have looked sloppy since his firing and hope to find some sort of way to steady the ship. Meanwhile Alexander Ovechkin finds himself in fourth place all-time in goals scored, and he has not slowed down, even during his age 36 season. Ovechkin has led the Capitals to a first place lead in the Metropolitan division. On the other side of the continent, the Edmonton Oilers have finally seemed to hit their stride with two of the best players in the NHL. Connor McDavid and Leon Draisaitl have been incredible to start this season, with Draisaitl leading the league 41 points, and McDavid in a close second with 40. The two faces of the NHL finally have catapulted their team into first place in the Western Conference. With only about 22 games played so far, the playoff spots are still up-for-grabs, the competition in the NHL is as high as it possibly could be.
Leave a Comment