Yearbook wins top three in the state, "goes live"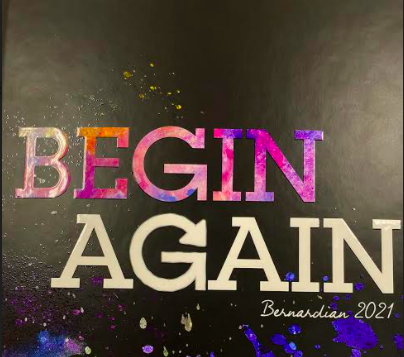 In the midst of the unprecedented challenges of the 2020-2021 school year, the BHS Yearbook Club managed to create an outstanding yearbook earning New Jersey's highest- ranking award.
Since 2016, BHS has entered the Garden State Scholastic Press Association (GSSPA) annual yearbook contest where a judge reviews and scores a yearbook based on numerous categories. Having chosen the theme "Begin Again," the club highlighted the return to a traditional school day. 
Designing the yearbook in a chaotic year was far from easy. Yearbook club member Kensi Garvin stated that for much of the year she "was not in school to get student quotes." Since the yearbook relies heavily on student statements and opinions, remote learning made this a unique challenge. The club resorted to communicating with students through text, email, and online surveys. Additionally, with many extracurricular activities being canceled, the yearbook club had to creatively fill the spreads that once displayed the senior fashion show, homecoming, and other school events. Pages were reimagined to incorporate unique spreads displaying student hobbies picked up during lockdown, reflections on the pandemic, student participation in seasonal festivities, and much more. 
With these changes, the club chose to reorganize the yearbook chronologically by season as compared to a traditional style that organizes the book by specific topics. The chronological style allowed the club to layout their yearbook corresponding to the events of the school year. This proved to be a great decision, and one they plan to maintain in years to come. 
BHS received an abundance of positive comments from the GSSPA judge. Standout comments included "the best division of students I've seen" and "excellent student life coverage." Earning a score of 975/1000, the BHS 2020-2021 Yearbook was awarded the All New Jersey Diamond Ranking for the second year in a row. 
The club was invited to participate in a live interview presented on GSSPA's Instagram. This interview consisted of top-scoring schools with exceptional yearbooks: Bernards, Hillsborough, and Princeton High School. In this interview, senior club members Nathalie Abello-Sudarsky and Ella Keener attributed their success to the remarkable teamwork of their group. 
Nathalie said that their club "got really close and worked together." Describing the yearbook as "a piece of history," she is proud that the yearbook is something students can look back on years from now and relive memories. Additionally, Garvin stated that their club "worked really well together" and "everyone cared a lot." 
Moving forward, BHS can look forward to another phenomenal yearbook for the 2021-2022 school year with the theme of "2 sides to every story." Although the theme was revealed, the design remains a secret. 
Congratulations to the yearbook team for creating an unforgettable yearbook in a year like no other. In the words of the GSSPA judge, "When students look back on this year, you have preserved memories that might otherwise be forgotten."