NFL Mid-Season Review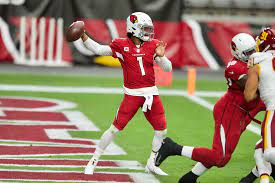 The 102nd NFL season, while only about half way through, has already brought thrilling games, surprising teams, and a lot to look forward to for the playoffs. A new component to this NFL season is the 17th game. Originally a regular season lasted 17 weeks, with 16 games, as each team had a bye week. But now this regular season has expanded to 18 weeks, with 17 games.
During the offseason, Patrick Mahomes re-signed with the Kansas City Chiefs for over $500 million and they looked like favorites to go to their third straight superbowl. Through the first seven games, the Chiefs sit at 3-4 and just got blown out by the Tennessee Titans, 27-3. What looked to be a high powered offense for the Chiefs, they were held to only 3 points by a mediocre Titans defense. It will be interesting to see if the Chiefs can turn around the season and make the playoffs.
On a more positive note, the Arizona Cardinals are the only undefeated team left and have a record of 7-0. Third year quarterback and MVP favorite, Kyler Murray has had a breakout season so far and is the main factor in the Cardinals success this season. The Cardinals have a moderately difficult remaining schedule and look to keep up this perfect start to the season.
The New York Giants and Jets are not doing well as most fans expected. The Giants most recently picked up a win against the Carolina Panthers, but that only improved them to 2-5, and last place in the NFC east. To add onto the Giants' struggles, they have had many injuries so far, including an ankle injury to their star running back, Saquon Barkley. On the other side, the Jets are 1-5, upsetting the Titans in week 4. First round pick Zach Wilson has struggled throughout the first 6 games throwing 9 interceptions and only 4 touchdowns. Once again these teams are yet to show any major improvement and it looks to be another season missing the playoffs.
Other notable information about the first half of the season:
Of course Tom Brady continues to prove he's still got it as the Buccaneers cruised to victory against the Bears this week, 38-3 to improve to 6-1. The Cincinnati Bengals came into Baltimore and won 41-17 led by Joe Burrow and Ja'Marr Chase to surprisingly take hold of first place of the AFC north and the AFC all together. Both the Carolina Panthers and the Denver Broncos started the season 3-0, but are now 3-4 seeming to show their true colors.
All in all, this season has been very exciting, and will likely continue to be as we head into the later months of the season and the playoff race starts to get more intense.
Leave a Comment