Aaron Rodgers Unhappy With Packers, Does Not Want to Return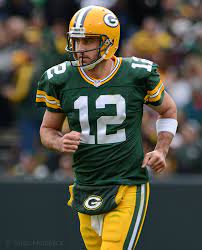 With free agency long-gone and the draft in the rearview mirror, the NFL has officially hit a dull point in the calendar. This part of the offseason revolves around drafted players signing to their teams and no-names joining the bottoms of rosters. As fans braced for the inevitable dread of May, June and July, quarterback Aaron Rodgers shocked the NFL world as it was announced that he was extremely disgruntled with the front office and was looking to leave the Green Bay Packers.
On April 29th, Adam Schefter of ESPN reported that Rodgers was "so disgruntled with the organization that he has told some within the organization that he does not want to, nor plan to return to Green Bay". Fans see the same report of Rodgers hating the Packers every season, and last season it seemed like it had hit a breaking point when the Packers selected Jordan Love, a quarterback out of Utah State with their first round pick. Many viewed that selection as the moment where Rodgers had enough of the team, after they chose to pick his replacement while he was still in his prime. This time, it feels different though with Rodgers coming out with a different kind of venom towards the Packers and his own general manager, Brian Gutekunst. 
According to Charles Robinson of Yahoo! Sports, Rodgers "won't return to the Packers as long as Brian Gutekunst is there". Furthermore, in his quest to tarnish his relationship with Gutekunst, Rodgers has supposedly called him "Jerry Krause", the vilified general manager of the Chicago Bulls in the 1990s after he broke up a team that won six championships, to his teammates in texts. When asked about the situation, head coach Matt LaFleur said "Yeah, I know, and I can't even take my brain to that spot right now".
With no end in sight to the whole mess, Rodgers has three teams that he would want to be traded to.
The Denver Broncos: After a season where second-year quarterback Drew Lock failed to live up to his dark-horse MVP hype, the Denver Broncos seem to be the heavy favorites in trading for the actual MVP. With a young core of weapons that includes Courtland Sutton, Tim Patrick and Noah Fant, Rodgers may be enticed to go to a team with a positive future. That being said, the Broncos would have to pay a heavy price to get Rodgers, which may end up stunting their development, and after not selected Justin Fields 9th overall in this years draft, it seems that the Broncos are set in stone with Lock or newly acquired Teddy Bridgewater who is also coming off of a disappointing season. While Rodgers would improve their team immensely, some might not be convinced that this team is ready to take a leap big enough to fill Rodgers' hopes.
The Las Vegas Raiders: After narrowly missing out of the playoffs last season, the Raiders seem to be the only team that no one is sure about. Coach John Gruden and general manager Mike Mayock are loose cannons when it comes to acquisitions. From drafting offensive tackle Alex Leatherwood 18th overall this year, or trading away star players, the most erratic team in the league could be at it again with Rodgers. While the team does boast weapons like Josh Jacobs and Darren Waller, they have one of the worst defenses in the league, which if that trend continues, the Raiders could be in for a rough ride, even with last year's MVP. With Derek Carr showing no signs of regression recently, it seems like a poor choice to put all their eggs in one basket and risk it all for Rodgers while their defense is rotting.
The New York Giants: The most surprising team to be named and it isn't close, the New York Giants seem to be the only team that was not brought up as a possible destination until they were named. After bolstering their weapons during the offseason by bringing in Kenny Golladay and drafting Kadarius Toney, the Giants probably have the most intriguing offense and with an already great defense, Rodgers may be inclined to join the team assembled by Dave Gettleman and run by Joe Judge. The only obstacle standing in the way of Rodgers is quarterback Daniel Jones. The Giants have stated that he is their guy, and after two seasons of fumbles and failure, Jones has one last shot with this team, or else he could be kicked to the curb next season. 
With those three teams being in weird situations at the moment, Rodgers could risk it, or stay behind with a team that went to back-to-back NFC championship games and hope to reach the promised land once again.