BHS goes all-virtual ahead of December break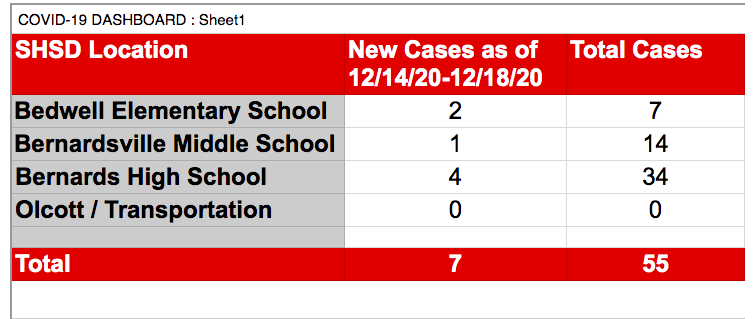 On December 8th, Dr. Dempsey, SuperIntendent of Somerset Hills School District, announced that Bernards would be all-virtual for the rest of December. In a letter sent out by the district, Dr. Dempsey announces, "The District will remain on purely virtual/fully remote instruction until at least January 4. All co-curricular events are on hold until further notice."
The letter from yesterday also gave BHS an update on positive cases within the district. Prior to this letter from the superintendent, Bernards was notified on Monday, December 7, of four confirmed COVID-19 cases. As a result of this positive test, those who may have been "exposed" to the carries began quarantine.
This is the Somerset Hills School District's third time to go all-virtual, as positive cases continued to rise ahead of the Holiday Season.
When asking Dr. Dempsey who made the decision between the Board of Education and Health Department to go all-virtual, she said:
"The Board Of Education has made clear publicly that they consider the decision to pivot to purely remote instruction an administrative decision.  The local health departments weigh in and advise us, as does our district physician.  That said, the responsibility for these decisions rests on my shoulders."
Did we go all-virtual because of the rise in cases within Bernardsville, or was it based on what the Board of Education thought was best right before Winter Break?
"The most recent decision to move to purely remote instruction was strongly recommended by local health officers and endorsed by the district physician based on the number of cases in the community and the numbers in schools, considering the degree to which they are related.  This document provides background on the factors influencing these recommendations.  If you are interested, you may want to attend the BOE meeting this Wednesday evening, as Assistant Superintendent Coleen Butler is going to be speaking about these issues."  
Dr. Dempsey noted in the letter that the Board of Education and Health Department "will be in touch before the start of winter break to update the community on our reopening plans." A decision made in hopes of families being allowed to see their loved one's around the holiday, Bernards will look to resume in-person learning at the start of the new year. 
*Update* In an interview with Dr. Neigel on the "Crimson Podcast," Shane Rich '22 and Matt Lesnik '23 discuss Bernards' plans following December Break.