Historic Football Recap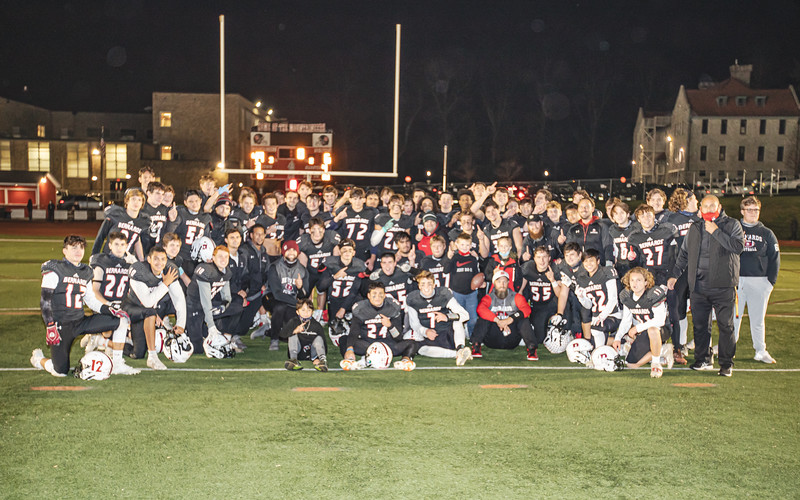 The football team made history during an already historic 2020. The Mountaineers just finished their season on an eight-game win streak, finishing the season with an 8-1 record. This history was made throughout various aspects of the season and the situation surrounding it.
After the team's strong start to the season with an opening record of (5-1), the team continued on the path it set for itself. Wins against Del Val, St. Thomas Aquinas, Voorhees, and Immaculata set the Mountaineers' record up to be very competitive.
History was being made all along the way; even in regard to the Del Val game. The away win on the grass field in Frenchtown, NJ, marked the first time many Bernards coaches had ever won on Del Val's field. This game culminated in an exciting goal line stop and ended in a 28-24 dub for the Mountaineers.
Occurrences during the St. Thomas Aquinas' game consisted of a coach coaching from his couch. While it sounds absurd, the Mountaineer Offensive Coordinator, Dave Carmon, made use of live meetings like Zoom to be in the game as much as possible while homebound. This game ended in a blowout 41-6 Mountaineer win under special circumstances. This win almost certainly ensured that the team won their section, something not accomplished in five decades.
In another historic, odd occurrence, head coach Simoneau was homebound during the home Voorhees game. Though he could not attend, he was virtually present for his team. He explained to the team that this is his first absent game in 180+ career games. In this game, despite the lack of head coach, other Bernards' coaches stepped up and basically ended the game before halftime by winning 40-2, with the only opposing points from a safety. At an exciting point in the game, Robbie Gribben scored his second career touchdown as a highlight of his senior season. He celebrated in the end zone with fellow senior Gavin Chieff.
In the final game against Immaculata on the home turf, Olcott Field, the senior class went out with a bang. The team ran up 49 points in the first half and garnered a running clock in the first half. The team had all of its coaches present and closed out the class of '21's last game together.
On a more historic note, surrounding schools and their football programs and seasons were attenuated at the time as a result of the coronavirus pandemic. In contrast, the Mountaineers and their coaches wanted to keep playing. In fact, Bernards High was one of 11 teams out of New Jersey's 334 football teams that suited up this season to play a full, regular nine-week schedule. Bernards was also only one of four teams with eight wins this season.