Restaurants respond: The Coronavirus in our community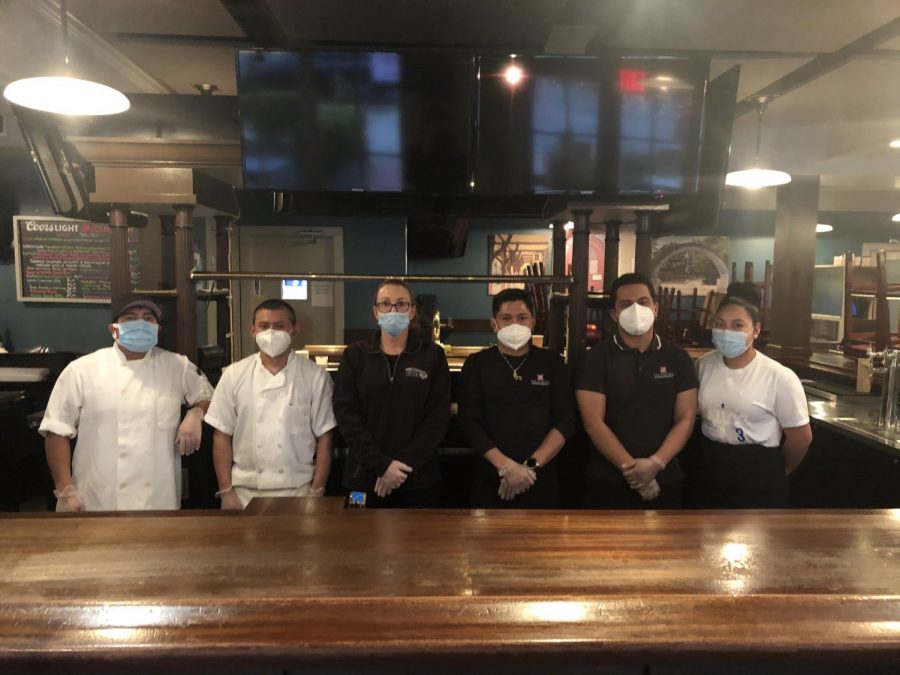 Noble Avellino, Staff Writer
April 28, 2020
"Before that, when we heard about China, we had a feeling it was coming over here but we didn't think it could happen in the US. Then [President] Trump announced a state of emergency and we started to panic, I think that was a Wed. We stayed open 'til Monday. I was scared."
So says Marco Arcentels, a manager at the Station Pub in downtown Bernardsville. Ever since the COVID-19 pandemic swept the United States, the Pub hasn't quite been the same: a huge banner now covers the front entrance saying that they're open and do take-out and curbside, all of the tables are now empty with chairs stacked onto them. Most of the staff that's usually bustling around the restaurant, greeting regulars and serving tables, are nowhere to be seen.
"Only a couple employees at a time," Marco explains. " We're trying to be fair to everybody, so we have shared shifts. Two days for you, two days for somebody else." This system of shared shifts isn't easy, but Marco explains it's the best, only way for everybody. "How are you gonna live by staying home? Nothing waits. Bills, food, everything."
Like all restaurants, Marco explains the extreme precautions that they're taking: everything is getting sanitized every couple hours or so, the restaurant only allows customers inside if they're wearing masks and has a sign on their front door requesting gloves as well, and Marco is pretty firmly put behind the counter. This is a huge change from the friendly environment they're used to serving in: 
"It's a family restaurant," Marco said. "We would give a hug and be like a family. We give handshakes, joking around… not anymore. It's not the same as it used to be."
When I came back later in the day to ask a few more questions, there were more employees in the back. Most were sitting around, without much to do. This makes sense considering that Marco estimates that "50%" of their usual business has been cut.
Geraldine Infantolino, another manager, explains their closure and then reopening: "So we closed on St. Patty's Day because the virus was at its peak, and we were concerned for our employees, our customers. I felt it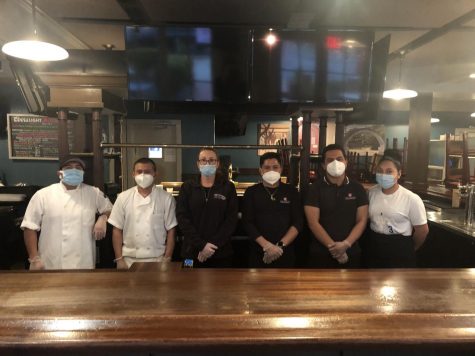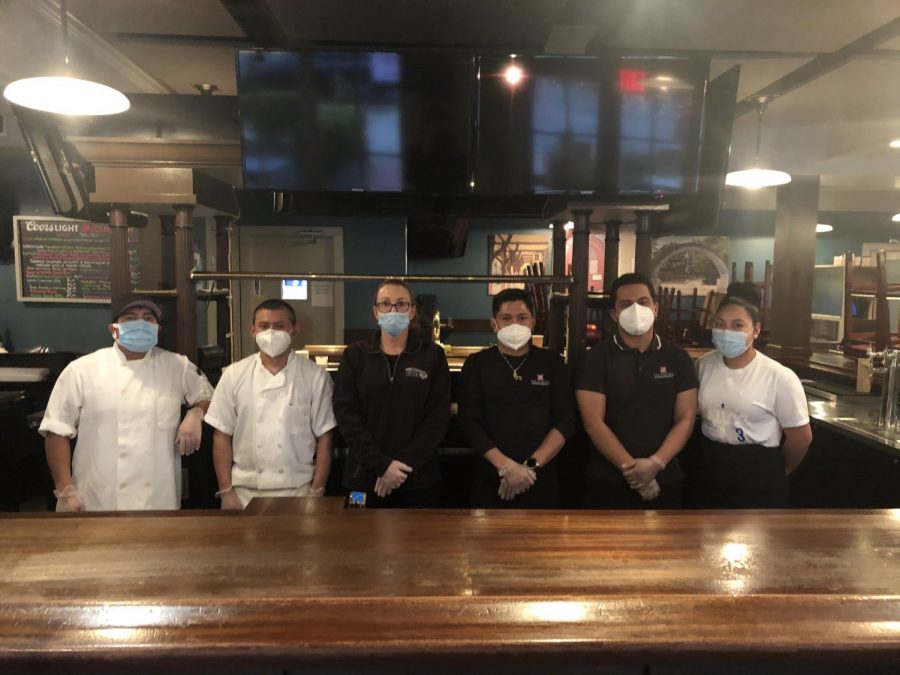 was best to get out then." When asked why the Pub reopened on April 16, a month later, there was a very long pause. "We felt that if we could come back to help our patrons and serve them."
From left to right: Elmer Hernandez, Artimio Mendez, Geraldine Infantolino, Eddy Solis, Marco Arcentels, Melissa Hernandez man the Station Pub from behind the counter, trying to minimize as much contact as possible. "When we do curbside," says Marco, "we put food in the trunk, close the door, and that's it. We're unable to talk to anybody. We're not scared of them, they're not scared of us, it's just precaution."
Just because the Station Pub and other restaurants are allowed to stay open during the stay-at-home orders issued by Governor Murphy in mid-March doesn't mean they're faring well. Each faces its own unique situation and crude-yet-effective solutions, all tied to the same larger mission: do not get anybody sick.
Lenny's Pizzeria, a particular favorite of high schoolers who would normally come down into town after school to grab a slice, does not look the same. Peering through the windows shows empty table after empty table, with a few employees working behind the counter. The most striking change: a metal cart that props open the front door, blocking all customers out and all employees in.
Isabel, an employee who spoke to me from the other side of the cart, explained that it was a safety precaution: "We have this cart to block people from coming in," Isabel explains. "We take people's orders and when they come to pick them up, we push their orders down the cart for them to grab."
One can imagine this makes taking in-person orders, and Isabel confirms this theory. "People have to call to order, mostly, and usually pay over the phone. If they want they can pay in person."
Similar problems plague Lenny's: employees now have their shifts reduced. The kitchen staff now works half-days, now usually only four days a week. There's still the joint effort to share work slots, though. "Everyone who wants to work can get a shift or two in," says Isabel.
When asked if there's anything resembling a busy day in the face of people staying at home, Isabel says that Friday is the busiest. "It's not as busy as it used to be, but we get around. 200-300 orders. But if you think about it before corona, it's nothing."
"Otherwise, it's definitely really slow. Lunch can be a few hours where there's nothing going on. Hit or miss."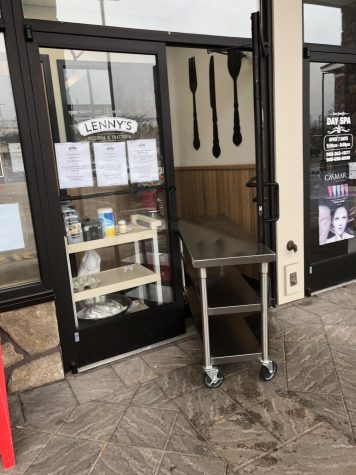 A metal cart props open the door to Lenny's. A customer waits outside the cart until noticed by an employee inside. On the doors, signs detailing Lenny's precautions and hours during the COVID-19 pandemic.
Bernards Deli agrees that Friday is the best day, but it isn't necessarily a good one.
"Fridays is usually our good day, but it's still rough," says Mo, the manager of Bernards Deli. "We can't call it busy anymore, it's our better day."
Mo says that the Deli the governor's orders "Caught us totally off guard."
"But hey, we kept on following with the governor's guidelines, kept checking the websites to see if we could stay open. We found out we could and we're trying to stay safe."
The Deli's claim to fame in terms of new protective methods to keep the virus from spreading is a large, clear protective sheet that covers the space between the employee at the register and the customer. This is in addition to all participants in the exchange wearing masks.
"Every precaution we can," says Mo. "Everyone's wearing gloves, everyone's wearing masks, and the whole place is sanitized every couple of hours or so."
Mo was quite bitter when asked if he was able to apply for a Small Business Aid loan that Congress recently allocated more money to:
"It's been terrible to deal with. We kept our employees and tried to apply for a loan. Three times the website crashed. Once we finally tried our best to file for it, there were no more sufficient funds for it. We're gonna try again, but as of now that's our experience."
The website they attempted to apply for a loan through was pnc.com, the website for PNC Bank, which has a location about 100 feet from Bernards Deli.
Perhaps maybe the strangest makeshift solution to the COVID-19 pandemic is Nicoletta. They and the restaurant next door, Osteria Morini, are now sharing the same space.
"We were at first unsure of what to do," says Nicole, a manager working at the joint space inside Nicolleta. "Morini had just opened up, it was open for two weeks and then shut down by the state. It didn't do take-out so it had to go. We knew the virus was getting bad, but we didn't know how bad."
The makeshift take-out / curbside restaurant includes menu items from both Nicoletta and Morini. Nicole explains that out of seventeen locations, the one in Bernardsville is just one of four that's still open, part of which is because no other restaurants like Morini are still open:
"We're still getting the business we similarly would. The demand for clients is still here. Some customers drive 45 to an hour to come here because not a lot of other restaurants like ours have been able to stay open."
That doesn't make everything all sunshine and rainbows. There were very few people moving about behind the counter at Nicoletta, cooking food and preparing bags. "We fired our entire staff. It's just the managers and chefs from here."
Even with the reduced number of workers and their hours, the same dismal figures came from everybody: no matter how many store items are used to keep customers safe and at a distance, it means nothing if customers don't show up. Marco's figure of 50% is staggering; Mo said he's since lost 60%. To restaurants around Bernardsville, and all of the Somerset Hills area, forget the disease: lack of support is what's going to kill them.
The Station Pub: 908-204-1227
Lenny's Pizzeria and Trattoria: 908-766-0465
Bernards Deli: 908 221-1710
Nicolleta: (908) 221-1177