Chorus and Band kick off Holiday Season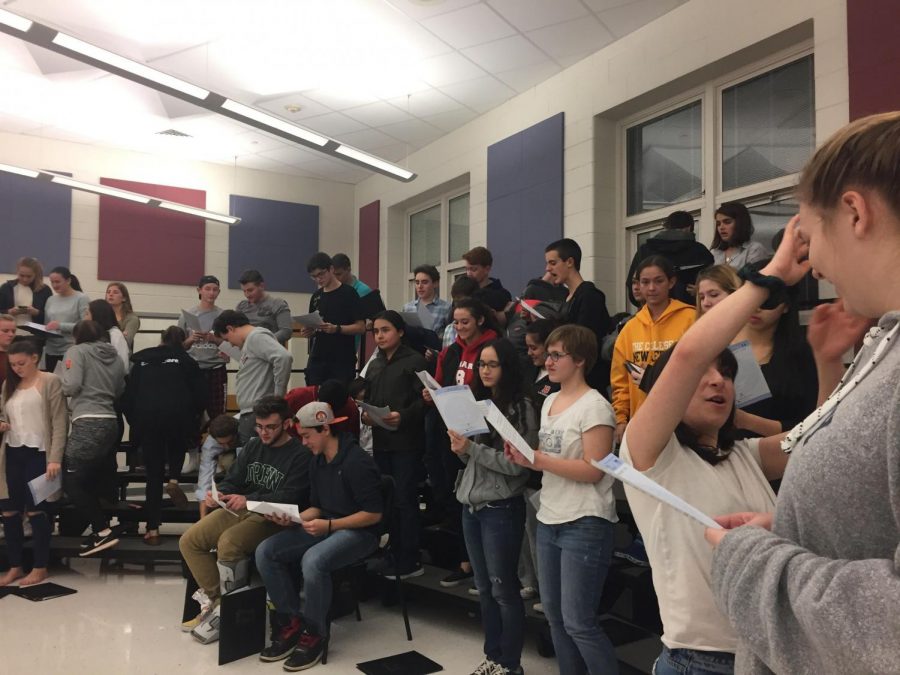 With the holiday season approaching quickly, a huge part of the school year is dedicated to preparation for the Winter Concerts. About 20 songs will be sung throughout all three choir groups, and about 10 for the band—these concerts are definitely something to look forward to.
The Madrigals are doing a number of different caroling events, which start on December 1st, at the United Reformed Church in Somerville.
Their next event is on December 3rd at the Jacobus Vanderveer House in Bedminster. On December 12th, they will hit multiple different locations including the Matheny Medical and Education Center, Public Library and two others.
The last performance will take place on December 17th at the Grain House for the "Carolers Brunch."
In the concert taking place on December 7th, Concert Choir is singing, "Awake, Arise, Hail the Morn," The Christmas Classic, "Ding Dong Merrily on High," and many others.
Sophomore Caroline McDowell says, "I love the winter concert because Christmas is my favorite time of the year and we sing some great classics."
The freshman girls Chorus are singing "My Favorite Things," "Axeltate," "Oh   Holy Night," and many others.
The Madrigals are singing an amazing group of songs like, "Carol of the Bells," "White Christmas," "Angelus Ad Pastores," and "Wassail."
Junior Lia Rampinelli says, "The music is great, I think it will be a success!"
On December 12th, the Honor Band, which is select members of the concert band along with selected band members from Bernards Middle School and Bedminster School, will all be performing together at the BMS winter concert.
For the actual concert in the PAC, only Jazz ensemble and Concert Band will participate. Jazz Ensemble will perform "La Fiesta" by Chick Corea, including solos by Jack Sena and Joe Kiel. "Big Dipper" by Thad Jones with solos by Luke Mase, Nick Scaperdas and Will Steinhorn. Lastly, "Comfort and Joy" arranged by Rick Hirsch with solos by Nick Scaperdas, Jack Sena and Will Steinhorn.
Concert Band will perform "Rhythm Stand" by Jennifer Higdon, "Willows of Winter by B.J. Brooks, Abracadabra" by Frank Ticheli, and "Adventum" arranged by Jared Barnes, with solos by Emily Certisimo and Rachel Hewitt.
Band Instructor Mr. Trumpy says, "The talented students of the BHS bands have been working hard and have made great strides in their preparation for this year's winter concert!"
Along with concert, Madrigals is making an online holiday recording. This is the first time they are doing a sharable link, making it free and easy to access. This gives everyone an opportunity to listen to the students without having to attend the concert.
Jazz band produces a Holiday CD every year. This year in particular though any choir student is given the opportunity to sing on the CD if they provide their own accompaniment.
At an affordable amount, buyers are getting a lot for their money. The song amount ranges from eight to ten. All the proceeds from this sale go to charity. So along with getting good music, those who purchase a CD are also supporting a good cause.