Star Wars: The Last Jedi Blasts Into Theaters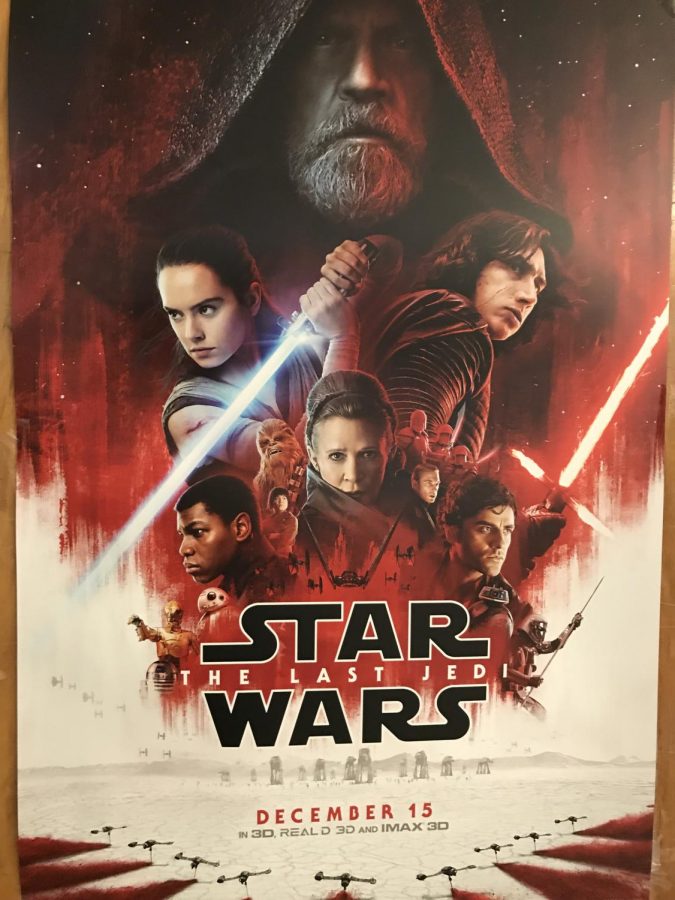 Harrison Lesnik, Staff Writer
December 7, 2017
Hop in a X-Wing, and go into hyperspace, because if you want to get tickets for Star Wars: The Last Jedi, you need to move fast. On October 9, when pre-sales started for tickets to The Last Jedi, it caused delays and crashing on Fandango, a movie ticket selling site, per hypebeast.com. If the hype wasn't big enough for the eighth episode of the Star Wars main series, the IMDb page for the movie has a timer counting down by the second until release. It will arrive to the Bernardsville Bow Tie Cinema on Thursday, December 14, and will be showing at 7:00 p.m. and 10:15 pm on that date, with showings starting at 12:00 noon, and ending at 10:15 p.m. on Friday the 15th.
The movie, originally said to be released on May 26, 2017, was pushed back to its current release date of December 14, 2017 after its predecessor, The Force Awakens, shattered records, becoming the third highest grossing film ever, taking in $2.068 billion for Disney, and selling 110 million tickets in North America, the most for a movie since Titanic in 1997, according to the-numbers.com. After a year of some hit and miss movies, Star Wars: The Last Jedi is a strong contender as the solution to struggling movie sales. Other movies such as Wonder Woman, featuring Gal Gadot and Chris Pine, It, and Thor: Ragnarok, also brought viewers to the big screen. With a trend toward streaming, movie companies struggle to make high-budget movies that bring in enough profit.
The film was directed by Rian Johnson, best known for the film Looper, starring Bruce Willis, and directing three Breaking Bad episodes, as listed on his IMDB page. Johnson also cameoed in the 2016 prequel movie, Rogue One. Star Wars: The Last Jedi will retain many of the cast from Force Awakens, with Daisy Ridley, John Boyega, Oscar Isaac and Adam Driver reprising their roles as Rey, Finn, Poe Dameron, and Kylo Ren, respectively. Mark Hamill will return for his fifth appearance in the series as Luke Skywalker, and Benecio Del Toro has signed on as a character referred to as "DJ" by Johnson. This will be the last film that Carrie Fisher will appear in, after her untimely passing in December 2017 at the age of 60. Harrison Ford will not return to the series after the murder of his character Han Solo by his son, Kylo Ren, in Force Awakens. Popular characters from the series, such as R2-D2 and BB-8 have been featured in Disney stores and are popular toys and gifts for fans of the franchise.
Johnson must have done good work on the film, considering Lucasfilms, Star Wars' parent company, announced that Johnson will work on a new trilogy with Ram Bergman, who worked on Last Jedi and is a frequent collaborator with Johnson, as producer, as announced by Disney on November 9.
Freshman Eddie Berman says that it will live up to the hype. "Star Wars always creates a classic", Berman says. He is eagerly waiting for the movie to be released.
Future releases in the Star Wars series include the Han Solo stand alone film Solo: A Star Wars Story starring Alden Ehrenreich as Han Solo, Donald Glover of FX's Atlanta and also known as popular rap artist Childish Gambino, as Lando Calrissian, Solo's first sidekick and Woody Harrelson as Beckett, Solo's mentor. Former Finnish professional basketball player Joonas Suotamo will return to play Chewbacca, as he did in the previous two movies. Solo is set to release on May 28, 2018. There is also the unnamed Episode IX in the main series, which is slated to release on December 20, 2019, as well as Johnson's trilogy.
Senior Thomas Perone says, "I'm excited to see what direction Star Wars goes. Every new movie brings so much action, so I can't imagine what they will come up with next. It will be interesting to see what happens."
Given the success of the Star Wars movies for decades, this movie is sure to be a blockbuster that adds to the series and franchise.