NFL Players display their protests for the National Anthem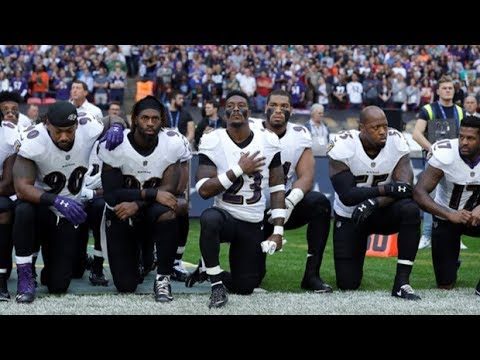 Erik Johnsen, Staff Writer
October 31, 2017
The national anthem is one of the country's main symbols of patriotism. It is played before every sporting event. Recently, many NFL players are finding their own way to show their dislike for Donald Trump, and it is taking the country by storm.
More NFL players than ever have to decide to kneel during the National Anthem ever since last year when San Francisco 49ers quarterback Colin Kaepernick decided to kneel during the national anthem because he felt black people and athletes were "oppressed". Other players began to support Kaepernick and also take a knee during the anthem. Earlier this season, Trump sent out a tweet demanding that athletes stand for the national anthem. NFL athletes and owners have taken different approaches for this dilemma.
Several teams have shown support for this movement, with the Seattle Seahawks, Tennessee Titans, and Pittsburgh Steelers all staying in the locker room for the anthem during Week 3 of the NFL season. Many other teams had their players take knees or stand with their arms locked. Since Week 3, the protests have slightly lessened, with no more teams staying in the room for the national anthem, but as of Week 5, the San Francisco 49ers continued to kneel during the anthem. 49ers safety Eric Reid said, "We started [kneeling] to raise awareness and to effectuate change. We're on the path to make the change we think we can make; we are just not there yet."
Some other teams have publicly come out and demanded that players stand for the anthem. Dallas Cowboys owner Jerry Jones believes that ¨if you do not stand for the anthem, you do not deserve to play¨. Owners have tossed around the idea of there being a rule forcing NFL players to stand for the anthem. NFL commissioner Roger Goodell is in full support of having players stand for the anthem.
It has reached such an extent that many NFL fans have simply turned off the game or have gone as far as to burn their season tickets. Fans of the Giants, Packers, and Cowboys have actually set expensive tickets on fire because they are so fed up with everything that has been going on.
Recently, Colin Kaepernick has sued the NFL because he felt that owners colluded into not signing him this past offseason because he did not stand for the national anthem. Reportedly, Kaepernick said that his breaking point was when the Tennessee Titans did not show interest in him after quarterback Marcus Mariota went down with a hamstring injury. "I know he's not familiar with our offense," stated Titans coach Mike Mularkey as to why he didn't invite Colin to try out for the team. "I'm not aware if there was [any interest in Kaepernick]" Many quarterbacks were invited to try out before the Titans went with backup Matt Cassel, but Kaepernick was never notified or invited that the Titans even had tryouts. After this incident, Kaepernick decided to take matters into his own hands and sue the league.
After the Tuesday meeting, nothing was done to change the national anthem policy. The major argument at the meeting was whether players "should" or "must" stand for the anthem. "We spent today talking about the issues players are trying to bring attention to issues in our communities, to make our communities better", commissioner Roger Goodell stated at the meeting. However, it is believed that steps in the right direction were taken to help improve the relationship between the players, owners, and the media.
Many wonder if when things will change with the national anthem to avoid issues like this in the future. It is clear that everybody involved wants to come to a resolution soon, but the way things are going it appears that will not happen anytime soon. We'll see what the NFL does to make sure this issue is resolved, and football fans can get back to focusing on the sport they love.