Students gather in Far Hills for The Hunt in style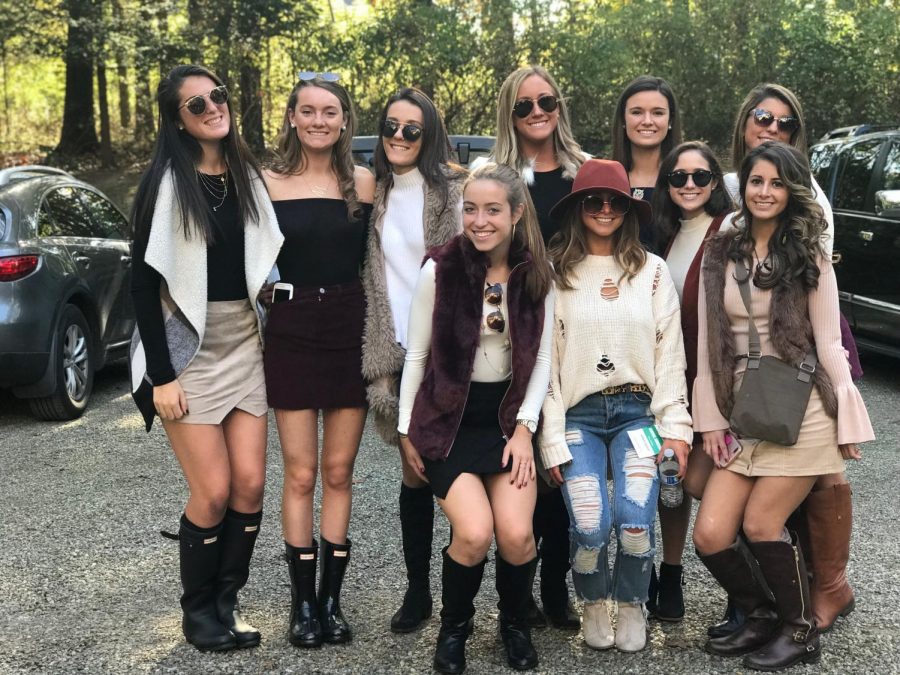 Lauren Browne, Entertainment Editor
October 30, 2017
On October 21st, 2017, many Bernards High School students gathered for a warm fall day at Moorland Farms in Far Hills for the 97th Running of the Far Hills Race Meeting, also known as "The Hunt". The day is revolved around the horse races around the track at the venue. The event benefitted the Robert Wood Johnson University Hospital Somerset and the Cancer Support Community of Central New Jersey. Sponsors included the Open Road Auto Group and Peapack-Gladstone Bank. Most people begin to show up around 10:30 AM and most people leave around 5:30 PM.
Originated around the Essex Hunt, the event was established to thank the local landowners who allowed the Essex Fox Hounds to hunt on their property. The event moved to its current location in 1916. Aside from a pause during World War II, the races have been held at Moorland Farms every year.
Yet, the event brings about the issue of underage drinking, of which has been attempted to be fixed by local police forces. At the Bernardsville train station, police cars were parked outside monitoring attendees getting off the train. According to myCentralJersey.com, organizers partnered with Lyft to prevent drunk driving after the event. Any attendees under the age of 21 were required to wear neon green wristbands to indicate that they were unable to consume alcohol.
Senior Kristen Childs said, "This was my first time and I do not think it was worth it. As I heard from others, it was more fun last year than it was this year. I do not know what made it different, but I kind of wish I went last year instead." Senior Julia Duthie agrees, saying "It was a beautiful day, but it definitely was not as enjoyable as it was last year. It was not worth the money. Cops were arresting people without justification."
The event is something that most students look forward to, especially given the unique style and dress associated with the event. For girls, Hunter boots or other rain boots were popular given the muddy ground. Sweaters and suede skirts are also a popular pairing, including ponchos and vests. For boys, Timberland boots provide the same versatility as the rain boots, and vests and plaid shirts were also very common. The sunny weather allowed most attendees to wear sunglasses, with aviators and reflective sunglasses being very common.
The event is aimed at raising money for charities and local hospitals and to bring the community together through the races, given the popularity and historical culture of farms and horse pastures in the surrounding area.