Popular TV shows come back for another season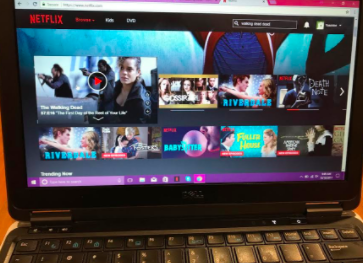 Yasmine Khan, Staff Writer
October 30, 2017
As fall comes in, the start of new television shows and season does as well. Watching on a TV or on Netflix is a popular way for people to spend their free time. Three shows in particular that the students at Bernards are excited to watch are Riverdale, Stranger Things, and The Walking Dead.  
Riverdale may seem like a quiet town on the outside, but once you enter it, there are mysteries lurking around every corner. With the tragic death of high school golden boy Jason Blossom, the town is shaken up and nobody knows who was his murderer.  The queen bee Cheryl Blossom has no problem stirring up issues amongst other characters Betty, Archie, Veronica, and Jughead Jones, but she's hiding secrets of her own about her twin brother's death.  With the shocking reveal of who killed Jason Blossom, the fans were left with a cliffhanger as what is going to happen next. The new season started and the fans were excited to see how they were going to start up and continue especially after finding out who killed Jason Blossom.  After watching the first episode senior Maria Boye said "[During the first episode of the new season] you learn major plot twists that happen in the middle and then the ending has me shook, at the end of season one they found out who murdered Jason Blossom, they found the whole secret of the Blossom family, so how are they gonna keep the show going, [and at] the end of episode one tells you how they're going to keep it going."  The show has been wildly popular since it came out in January and it is only on its second season. With a rating on Rotten Tomatoes of 87 percent and an IMDb rating of 7.8 out of 10, anybody who has not seen Riverdale yet should definitely give it a try.
Stranger Things has gotten a lot of hype since its debut. Only having one season, it has been popular with a 8.9 out of 10 on IMDb, a 96 percent on Rotten Tomatoes, and it also has 18 Emmy nominations. The show centers around a small town where everyone knows everybody, but weird things keeps happening in the town, leading up to the vanishing of a small boy. The disappearance of the boy, Will Byers, starts to tear up the community as mysteries and secrets start to come out. Dark government agencies and supernatural forces start to cross paths with the town. Now, some of the people are realizing there is more going on than they think. The second season is going to have more mysteries and going to be more horrific than the first.  Senior Brianna MacMurtrie said, "I like Stranger Things because I thought the concept of it being set in the 80's was kind of cool." Watching the show is the only way you will find out what secrets the government is hiding and what supernatural things are going in this quiet little town in Indiana.
Another show that has been popular is The Walking Dead, which has a popular following amongst students. The first episode, aired on October 31, 2010, has now begun the eighth season. The show is based on comic book series written by Robert Kirkman, centering around how people survive during a zombie apocalypse. Even after seven seasons, the show is still really popular; on IMDb, it has 8.5 out of 10 stars and on rotten tomatoes, it has 86 percent. Senior Zoe Considine has been watching the show and said why she loved it so much: "I watch the show because I found an interest in the characters and how they survive during the apocalypse. The show hooks me every week and I want to know more about what's going to happen to the characters."   If you have an interest in zombies or the apocalypse, The Walking Dead is worth watching.
Many shows have drawn a large teen following. Shows such as Riverdale, Stranger Things, and the Walking Dead are making their way onto most screens, either through Netflix or cable television.