Students Connect with the Game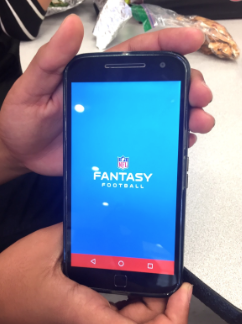 Lauren Goral, Staff Writer
October 6, 2017
Fantasy football has been huge this year. Millions of people, including professional athletes and celebrities, have been participating for the chance to win prizes for their league. From the Chicago Bears, Jared Allen says, "It's connected fans to players even more. Now they feel they can truly play Monday Morning Quarterback from the couch." Fantasy football is a hobby or a game that fans can play on the computer or on their phone and score points by how well NFL players compete on the field. Most people who play fantasy football are NFL fans who enjoy watching football. Playing fantasy football can also make people become more involved in football games. Players can see how well the NFl stars did compared to the fantasy football players.
Before the football season starts people will draft and manage a team that consists of 12 of the best NFL players that compete on a weekly basis. Each week fans will set a lineup from the roster and are matched up against another team in the league. The team with the most points wins. The team consists of a quarterback, two running backs, two receivers, a tight end, a kicker, and a team defence. The rest of the players are on the bench. Fans also may need to replace players if they get injured. Teams can bid on players that have a certain amount of money that they can spend during the auction. To score points, players need to score on the NFL field. Some leagues reward players for yards that have been gained, while some leagues reward players for touchdowns only. Fans can also be rewarded by their running and catching on the field.
Drafting a team can be hard. Players might not know who to choose or what line up is the best.The NFL can be very unpredictable and people don't know if the best players will get injured or that their are some non performing players. Since NFL games are once a week, it's important to check up on  team to see if any players have been injured or if people need to trade any players. Trading players can be fun if fans have any weak players or if players love to deal. For an example, if the player's team is weak, but has some good players, people can go to a team in their league  and see if there aren't any weak players to see if they are willing to make a deal.
People who enjoy watching football will enjoy participating in fantasy football.Some people are also interested in the money or to stay connected with friends. With money, fans can earn up to $1M if people enter the $5 league. People can stay connected with friends when playing fantasy football. Whether they are in college or they have a job, friends can get together to  play fantasy football virtually. Freshman Miles Bramwit says, "I enjoy the competition and the thrill of the fact that it can come down to the last second of Monday night football."  Another reason is that they love the competition or they want to increase their knowledge on the sport. People might just watch football for fun, but they don't know that much about football, so people play fantasy to enhance their knowledge.  Lucas Dacruz is a freshman and he says," I enjoy playing fantasy football because I can compete against my friends and watch football." BHS students love the thrill of fantasy football and the chance to compete against their friends.