"This Is Us" Season One Recap
Hang on for a minute...we're trying to find some more stories you might like.
 The pilot episode of "This Is Us" left audiences with a major cliff hanger, and just like that American was hooked. Premiering on September 20th, 2016 on NBC, the series follows siblings Kate, Kevin and Randall Pearson as their lives intertwine. Episodes weave through the stories of the past and present of the characters, with most scenes taking place in the character's lives now and their lives when they were a new family in the 1980's. Overall the show handles topics   `like family, love, death, and race, as the Pearson's deal with struggles that everyday families go through.

With the many attractive male leads and encapturing plot lines it's hard to turn away from the TV for even a moment. Each episode leaves the audience wanting more. The show's ratings a
re making history with the finale episode owning a viewership of 12.7 million, climbing higher than the number one rated cable show, AMC's The Walking Dead, with 10.6 million viewers.
This season was a whirlwind of emotions for fans on the edge of their seats."It does a good job at not being too corny while still being dramatic" said senior Maddie Stevens. Some say, however, the season finale was a disappointment leaving many questions unasked. "A let down regards to the rest of the season, the episode before it should've been the finale. Anyone who hasn't seen it must!" (Murphy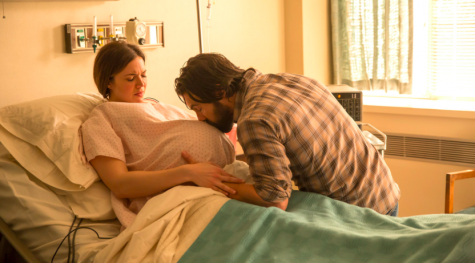 The reason why so many people enjoyed the show every Tuesday night was because from the beginning the show made the viewer's feel like a part of the family and it dealt with so many real issue which made the characters so relatable. That is hard to find now a days since so many shows feature unrealistic situations that push unrealistic expectations on the characters, many are unrelatable.
What's next for this NBC breakout show? This Is Us got a rare two-season renewal. Fan's have high standards for the upcoming premiere of season two in the fall. Only time will tell if the Pearson family can capture America's hearts as well as it did for the pilot back in September.