Spring Fashion 2017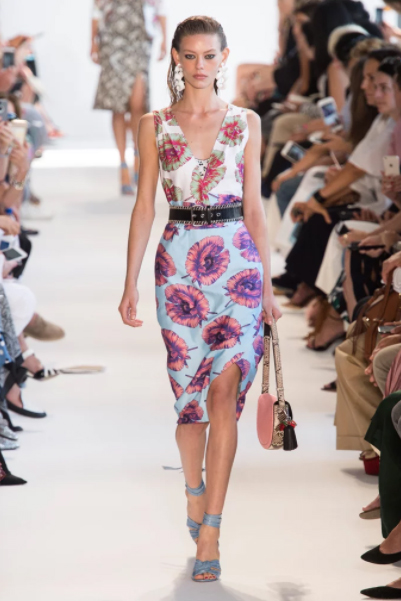 Olivia Allegra '17, Staff Writer
April 3, 2017
Do you struggle picking out your outfit every morning? Or getting dress' for spring events such as confirmations, weddings, graduations, communions, and prom? With spring just around the corner it is time to renew your wardrobe and begin thinking about new styles, colors, and outfits that are fitting to the season that welcomes summer.
A few weeks ago, New York hosted Spring Fashion Week. The top trends were all bold, brilliant, and textured. The first item to look for in your closet would be stripes, primarily shown on dresses. Next were spring season florals, which was no surprise here. Florals are paving the way for new fashion trends. Models for Tanya Taylor, Tibi, and Lela Rose all strutted their floral patterns down the runway. The models walked in beautiful long dresses, bright jumpsuits, and eye catching sleeves.
"I love trendy, cool colors! Bright colors make my spring so much happier and I can't wait to wear white jeans after memorial day!" Said Sophomore, Cece Gunning.
The suggested shade of the season was blue. Designers are straying from traditional black and white and adding neon, khaki, and blue to their lines. A classic piece shown on many models at the event were Oxfords. Designers are adding a twist this year with flounces and slashing shoulders, leaving the traditional pattern with edgy updated styles. Ruffles and frills were BIG, both in terms of proportion and popularity. Laces are now also being displayed, and not just on shoes. Thanks to this season's runway, there will be plenty of creative strappy styles to keep an eye out for.
Hannah Michelson, junior at Bernards High School said, "Every year, fashion week sets influential trends. This year we saw the return of bright colors and bright patterns. This is new because mainly black, white, and neutral colors were shown last spring. I am excited for these new, bright, bold patterns!"
Michael Kors, Jill Stuart, and other popular fashion designers may be expensive, but don't hesitate to try and find these fashions elsewhere. Most places that are commonly shopped at will have oxfords, laces, and shades of khaki and blue, so don't fear!