Spring sports midseason updates
May 3, 2023
The spring sports season is well underway, and each team is experiencing great success. Both the boys and girls lacrosse teams have been playing very well, leading to records of 8-2 and 9-2 respectively. Golf has had a hot start with a 14-2 record. Boys tennis, under new coach Mr. Koch, had played well, opening to a 5-4 start.
Boys Lacrosse midseason updates
After an exciting trip down to Florida the boys lacrosse team came back to start the season with a few scrimmages and high hopes for the  season. They faced three top 20 teams in the scrimmages going 2-1. The wins came against West Essex, 11-10, in overtime and Scotch Plains, 8-4. The one loss in the scrimmages came against a top 10 team in the state, Rumson Fair Haven. The season started off hot with a huge 19-2 win over Phillipsburg. Charlie Hunnewell led the way with 4 goals and David Brothers added  4 assists. The second game was another blowout against Mendham winning 13-3. Charlie Hunnewell and David Brothers each added 3 goals. The boys first loss came against a close game, West Morris Central, with a score of 8-6. David Brothers added another hat trick and Charlie Vaccaro added another. The following Tuesday Imaculta was the next Victim for the boys quest to the state championship winning 14-2. Jake Caldwell added 2 goals and 2 assists on the day. Finn Vaccaro led the team with 4 goals and 2 assists. The next game was another blowout win, 15-1 against Voorhees. Jake Caldwell led the team with 5 goals and 1 assist. David Brothers once again added a hat trick and 3 assists. Zach Cohen added two goals on the day as well. Next up was the revenge game against caldwell. After a heartbreaking one goal loss in last year's state semifinals this game was circled on the calendar. Sophomore Alex Vaccaro on going into the game: "I knew it would be a hard fought and emotional game after the loss from last year." It was just that, after a close game going into the 4th quarter up by 2, the boys went on a 3-0 run to end the game and extend the lead to 9-4. Alex Vaccaro had a team high 3 goals and an assist. Trever Sardis went 17 for 17 from faceoff while adding on a goal in the win. Charlie Hunniewell tallied a goal and four assists. This was a huge win for the program. Both Caden Kirst and Trever Sardis have also been nothing short of amazing this season. So far this season Trever has an outstanding 85% faceoff win percentage. Trever has been the kickstart to this year's amazing offense run. Caden has been the backbone of the amazing defense played so far, led by Bryce Babich, Aidan Peterson, and Max Austin. On 76 shots Caden Has 55 saves and 21 goals allowed. The heart of the boys schedule starts soon where the true test to see what this team is made of will come out. Some of the teams included Randolph and Pope John. Sophomore Bryce Babich on the season  so far: "This season has been going great for the team. 4-1 and [we've] beat a couple very good teams. We are a young team and only going to get better as the season continues." The boys will look to use these games as momentum towards the end of the season where they will look for a high seed in not only the county tournament, but the State Tournament. 
Boys Golf team swings to the top of the Skyland Valley conference
The Bernards Golf team started off their season strong with an impressive record of 14-2. The team consists of six varsity members, and they play nine holes. The lowest four of the six scores count towards the total team score. Two members from our team compete against two members of the opposing team to play each of the nine holes and get the total score. 
The last time the golf team had a record like this was in 2010, and even then they didn't come close to what they have accomplished this season. The team's future is looking bright due to the fact that five of the six starters on varsity are all returning next year, due to the fact that 5 of them are juniors, and the team only has one varsity senior. The team consists of juniors Fin Spitaleri, James Kolvites, Simon Bramwit, Hayden Kreikemeier, Cutter Kreikemeier, and senior Matthew Chen. 
They recently qualified for the state tournament on April 19th, and they are undefeated in their conference with a 8-0 record. Hayden Kreikemeier '24 shared, "I'm super excited for sectionals in the second week of may, because we have a good shot to place, and even win. Even if we don't win as a team I know anyone on our team can go out and win as an individual which is exciting and we have improved so much as a team in just one year."  
The only team they have lost to was Ranney High school which ended with a score of 172-161. The top three scorers of the day were Spitaleri who had a score of 42, Kolvites who had a core of 43, and Hayden Kreikemeier who had a score of 43 as well. Spitaleri placed third, and Kolvites and Hayden Kreikemeier tied for fifth.  
Boys Tennis midseason update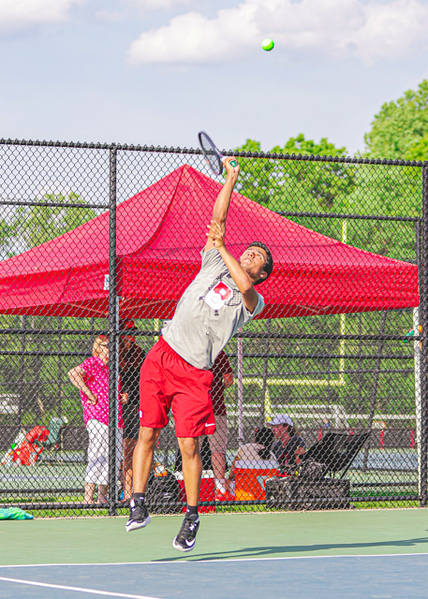 Normandy Studio
The boys tennis team has been on fire lately, winning 4 out of their last 6 games. This is a testament to their hard work and dedication so far this season.
The team has been practicing extremely hard, focusing on improving their skills and teamwork. Their efforts have paid off as they have been able to execute their strategies on the court, resulting in some impressive victories
"I think we have a really good shot at the playoffs," says Coach Koch. "We've been practicing hard and our teamwork has been great. If we keep playing the way we have been, I think we could go far."
The team's success can be due to several factors, including their strong work ethic, dedication to the sport, and effective coaching. The players have been putting in extra hours of practice, honing their skills and perfecting their techniques. They have been pushing each other to be better, and their teamwork has been exceptional. Additionally, the coaching staff has been a key part in the team's success. They have been providing guidance and support, helping the players to develop their game plans and strategies. The coaches have also been working on building team morale and ensuring that everyone is focused and motivated.
The boys tennis team has been playing with confidence and determination, and it shows in their results. They have been dominating their opponents on the court, using their skills and teamwork to their advantage. Their success has been inspiring, and it has given them the motivation to keep pushing forward and striving for even greater achievements.
As the season progresses, the boys tennis team will undoubtedly continue to work hard and strive for excellence. Their recent success has shown that they have the potential to be a dominant force in their league, and they will definitely be a team to watch in the upcoming matches.
Looking ahead to the playoffs, the boys tennis team is confident in their abilities. "We know it's going to be tough," says Coach Koch. "But we're ready for the challenge. We're going to keep working hard and playing our best."
The team's recent success has shown that they have the potential to be a dominant force in the playoffs. "We have a really strong team this year," says Senior, David Dyka. "I think we can definitely make a deep run in the playoffs."
All in all, the boys tennis team has been playing exceptionally well, winning 4 out of their last 6 games. Their success can be attributed to their hard work, dedication, and effective coaching. The team's recent victories have been impressive, and they are poised to continue their winning streak in the upcoming matches.