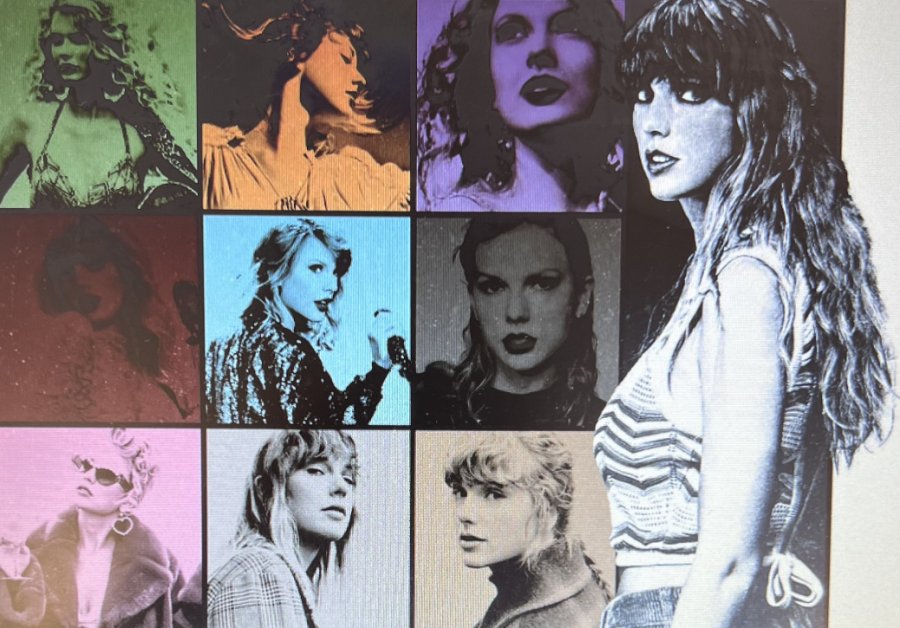 Ticketmaster sparks outrage for complications with Taylor Swift's "The Eras Tour" tickets
November 23, 2022
Swifties slammed Ticketmaster for its website failure during the sale of tickets for Taylor Swift's "The Eras Tour."
Rose Costello '24 speaks out about the frustration with Ticketmaster during "The Eras Tour" sale
On November 1, 2022, global popstar Taylor Swift announced her sixth tour "The Eras Tour," her first concert tour since her "Reputation Stadium Tour" in 2018. 
Excited fans immediately went to register for the Verified Fan presale on Ticketmaster, getting to choose their top three shows dates and locations that they would want to purchase tickets for. If chosen for presale, fans would have received an email from Ticketmaster on the evening of November 14th and later get a code for the presale of one of their show options in a text. Over 3.5 million people registered for the presale, while only 1.5 million fans actually received codes. Some fans were unfortunately waitlisted, decreasing their chance of being chosen to get tickets. Though many thrilled fans were chosen to register for presale, nothing could have prepared them for the disappointment and disaster they would face the next day.
The problems arose long before the presale actually began. Prior to the presale at 10 AM on November 15th, fans who were chosen for presale had been told the waiting room would open 30 minutes prior to the actual presale, though most were on the website a whole hour before. The amount of fans using the Ticketmaster website caused the site to crash down, many receiving an error on their screen. 
Once fans were actually able to get into the waiting room for their show, they would be redirected to the queue smoothly if experiencing no other website issues. Some were eventually able to get into the queue, however for most, that's where they stayed. While many did move up the line in the queue, eventually facing a screen that told them they were next in line, some were immediately redirected back to the beginning of the queue instead of continuing to checkout. For fans that did make it to checkout, many received an error on their screen every time they selected seats on the seating chart for their show location, saying those seats were already taken. In the end, 2.4 million fans were able to get tickets through Ticketmaster. According to research by Bookies, the probability of getting Taylor Swift tickets was 2%. Ticketmaster finally spoke out on the issue when their fan-support Twitter had posted a few updates on the tour at 1:04 PM that day.
"There has been historically unprecedented demand with millions showing up to buy tickets for the TaylorSwiftTix Presale," stated Ticketmaster, continuing to thank fans for their support and patience.
For many swifties, this post did more harm than good, making them even angrier than they were after being directed to the front of the queue countless times. Many fans expressed their annoyance online with hateful statements or memes on popular social media apps like Twitter and TikTok. 
"8 billion people in the world and every single one of them is ahead of me in the Taylor Swift Ticketmaster queue apparently," one tweet says.
A TikTok quotes, "Not Ticketmaster saying 'due to unprecedented demand for tickets' like they're not the ones that decided/knew exactly how many verified codes they sent out and how many people would log on???"
Then, the most upsetting event occurred on November 17th, when Ticketmaster canceled the general sale due to "extraordinarily high demands on ticketing systems and insufficient remaining ticket inventory to meet that demand." Therefore, any fans who were not able to purchase tickets during the presale, or were not chosen for presale at all, do not get any chance to get tickets.  
Swift finally made a statement on the matter at 12:03 on November 18th on her Instagram story. Swift starts off by explaining how she tours with the sole purpose of connecting with fans and is very protective of them. She then continues to express her disappointment in Ticketmaster and the anger she has from everyone experiencing multiple problems with the website. 
"I'm not going to make excuses for anyone because we asked [Ticketmaster], multiple times, if they could handle this kind of demand and we were assured they could."
Swift then ends her statement by saying that she hopes to come up with more opportunities to play her music with the fans who did not get tickets and thanks them for their dedication to her. 
With many angered fans, Ticketmaster is really proving to be the anti-hero of the swifties' hearts, relating massively to the lyric "It's me, hi, I'm the problem, it's me."  
Leave a Comment
Lila Beckerman '25 discusses problems with Ticketmaster due to the demand of Taylor Swift tickets
On Tuesday, November 15, 2022, Ticketmaster made tickets for Taylor Swift's highly anticipated The Eras Tour available to each individual selected for presale. At exactly 10:00 am that morning, fans of the singer rushed to the website to purchase tickets as fast as they could. However, things didn't exactly go as planned.
As people flocked to the Ticketmaster app, they were met with a screen to input the code they received if they were selected for presale. Fans then encountered a multitude of issues, such as the site reloading or crashing, not being able to check out, or having to wait in a virtual line for hours until they were let into the sale. Presale was supposed to be open until Thursday, November 17, and general sale would follow on Friday morning.
On Thursday afternoon, fans returning to the site to attempt to grab any leftover presale tickets were met with a statement from Ticketmaster that said, "Due to extraordinarily high demands on ticketing systems and insufficient remaining ticket inventory to meet that demand, tomorrow's public on-sale for Taylor Swift The Eras Tour has been cancelled."
Upon receiving this message, fans were outraged. Around 14 million people tried to get tickets, according to Ticketmaster, but only 1.5 million fans were originally supposed to be able to buy tickets during presale. Over 2 million tickets were sold, leaving none left for the general public.
Lucinda Putnam, class of 2025, said, "It's just really unfair to people who were counting on getting tickets during presale." Countless fans agree, and have complained to Ticketmaster and even Taylor Swift herself about the situation.
On Friday morning, Swift released a statement through her Instagram story, explaining that "it's really difficult for [her] to trust an outside entity with these relationships and loyalties, and excruciating for [her] to just watch mistakes happen with no recourse."
While the situation remains unresolved, people were somewhat satisfied with the singer's response. Though there is no real solution regarding the tickets, fans are looking towards the future to hopefully get seats for the next Taylor Swift tour — which likely won't be through Ticketmaster.
Leave a Comment