Fall play impresses attendees: A story in pictures
After weeks of long rehearsals, Bernards High School theater opened The Curious Incident of the Dog in the Night-Time on November 18th and was met with tremendous success. The play also ran on the 19th and 20th. The cast and crew worked tirelessly on this production.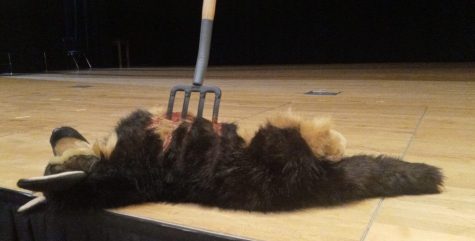 The drama starts off with an exclamation full of profanity as it is discovered that Mrs. Shears's dog, Wellington, has been murdered. This is a crucial moment to the plotline as it starts the mystery Christopher Boone, the main character, is trying to solve: who killed Wellington the dog? Sarah Maqueda '23, who plays Mrs. Shears, starts the production off swearing. She plays a very different character than she is used to playing. She says, "Portraying a character who swears in almost every line was definitely a challenge to perform. I'm not someone who swears very often so letting go of my natural restraint of cursing took a while. But in the end playing someone with a contradicting personality to mine was fun and rewarding."
Reporting by Caitlyn Sebastian '23. Photo by Alexis Frenda '23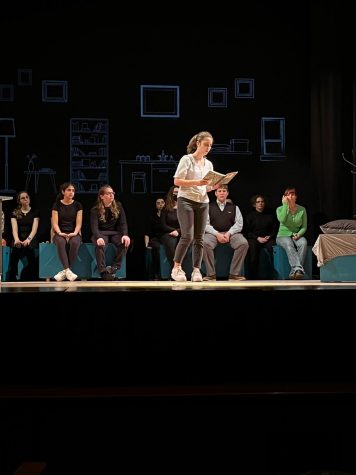 Gabriella DeNicola '24, playing the part of Siobhan, explains Christopher's desire to complete his detective work on the murder of Wellington, giving the audience a glimpse into Christopher's mind. The parts of Siobhan and Christopher were split between two people, with Nina Robles '23 and Gabriella DeNicola '24 playing Siobhan and Maxton Lukes '23 and Evan Seeker '24 playing Chirstopher, an interesting, unique way to portray this story.
The reasoning behind mr. harvey's choice is explained by Gabriella DeNicola '24. She says, "by splitting up the roles, the four of us were able to specifically hone in on different aspects of the roles and really take the time to understand and portray the characters in the most dedicated way. Mr. Harvey's decision forced us to pay attention to the characters and allowed us to have an entirely different respect for them as people and not just characters."
Reporting by Caitlyn Sebastian '23. Photo by Jane Holmes '23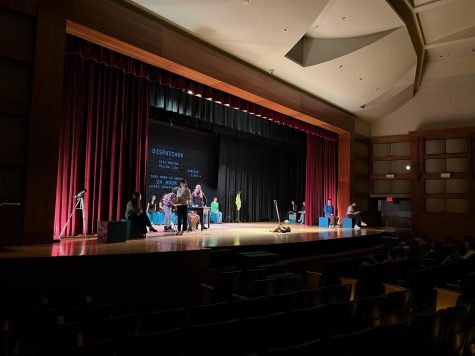 Christopher Boone is questioned by the police on the murder of Wellington since he was found with the body of the dog. This show was an incredibly hard production, dealing with sensitive topics and filled with complex emotions. The cast wonderfully represented all characters in this play. Arden Addeo '25 shares her admiration of the cast, saying, "The cast showed their undying dedication for this production through their unforgettable performance. I could not have asked for a better group of people to work with."
Reporting by Caitlyn Sebastian '23. Photo by Jane Holmes '23.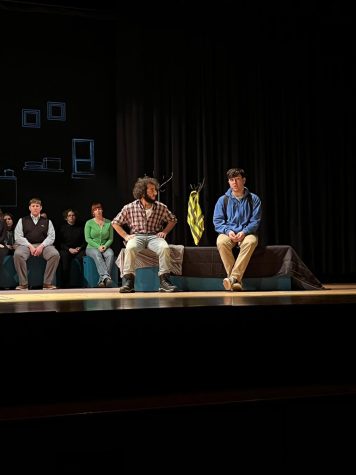 "I think I would make a very good astronaut," Christopher Boone, Maxton Lukes '23, tells his father, Corin DeStefano '23, the two sharing a warm, philosophical conversation on what astronauts face in space. Both characters are extremely complicated, requiring research in order to accurately portray the roles, but neither actor shied away from their part.
DeStefano explains the difficulties he faced and overcame with his role. "I'd say playing Ed was challenging, as he was such a complicated character; it's hard to defend the guy who murders a dog. But I do think he had his reasons, and even if it was an exhaustingly emotional role, it was really enjoyable."
Reporting by Caitlyn Sebastian '23. Photo by Jane Holmes '23.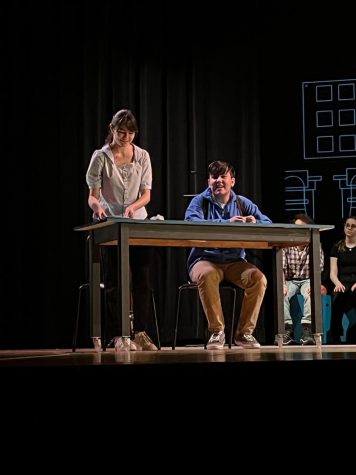 Christopher talks with Siobhan, one of the only people he felt calm around. Maxton Lukes '23, who played Christopher, highlights the importance of Siobhan as a character in Christopher's life. He claims, "Siobhan was constantly functioning as Christopher's moral compass, calming him down and continuing to teach him new things."
Performing the part of the crucial character, Nina Robles '23 remarks, "playing Siobhan was not only a great opportunity to practice an English accent, but also to step into a reality I don't have much experience with. The role of Christopher's teacher helps connect two worlds, and I'm glad I got to be a part of that."
Reporting by Caitlyn Sebastian '23. Photo by Jane Holmes '23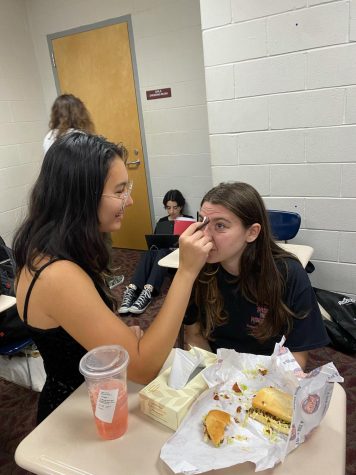 Anna Rekatas '23 applies makeup to Alexis Frenda's '23 face, physically turning her into her character, Mrs. Alexander, an elderly woman who only has Christopher's best interests at heart. She describes her experience as the show's resident make-up artist, citing how she worked with "both the cast and the directors." Rekatas says "I enjoyed using makeup to age Lexi to fit her character of an older woman, as well as help with costumes and stage crew."
Alexis Frenda '23 discusses her experience performing the role of an elderly woman. "Playing an old lady was definitely a challenge for me since I have never played a role like this before. But Anna's incredible makeup work definitely helped me get more into my role. The makeup was so good even my grandparents didn't recognize me!"
Reporting by Caitlyn Sebastian '23. Photo by Abigail Sebastian '25.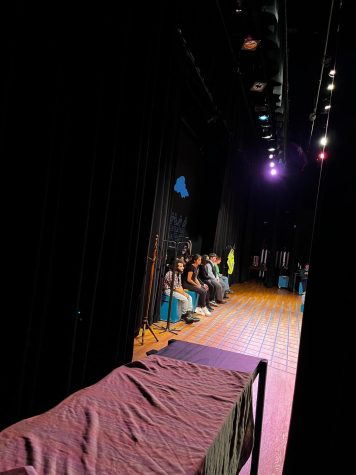 From the behind-the-scenes look of the performance, one can see the cast, sitting on the stage the entire production. Abby Sebastian '25 comments on this, saying that "never leaving the stage was a bit exhausting, especially since it was a lot of sitting, but it was fun getting to watch the show and seeing the audience's reactions to our performance."
Reporting by Caitlyn Sebastian '23. Photo by Jane Holmes '23.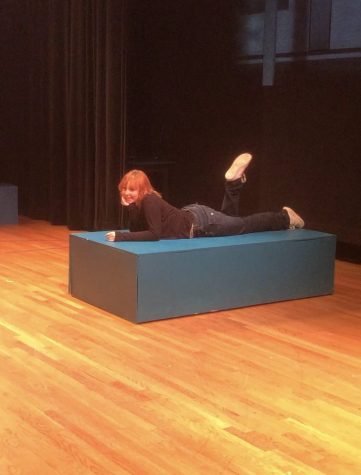 Judy, Christopher's mother, is another critical yet complex character. Correctly portraying this character was a monumental task, yet Madeline Bozack '24, was not overwhelmed. Her interpretation and performance of this character was absolutely stunning, bringing tears to many of the audience's eyes.
Madeline Bozack '24 describes how she decided to portray this complex character. "Playing Christopher's mother, it took some time for me to understand her role in his life and the meaning of the show. As I better understood the story I also better understood Judy's point of view. I think what made her such a dynamic character was her flaws, and drawing from my own, I was able to really appreciate her character and raw emotions. I loved telling her story, and I am really glad that some mothers in the audience felt represented as well. Overall, she was tough to play, but in my opinion, a necessary part of Christopher's story."
Reporting by Caitlyn Sebastian '23. Photo by Alexis Frenda '23.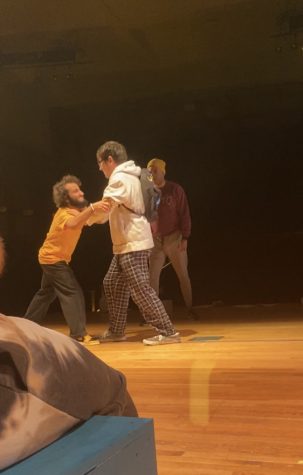 The fight scene between Ed and Christopher Boone was one filled with anxiety, fear, and awe. All members of the audience could see the pure emotion on the faces of Maxton Lukes '23, Christopher, and Corin DeStefano '23, Ed. The fight scene starts with pushing and ends with Ed slapping Christopher.
Corin DeStefano '23 says, "Doing the fight with Max was fun, because there was just such strong energy happening in the scene; my only worry was that I'd accidentally hit him for real, but luckily that never happened."
In order to prevent Corin's fear of hurting Lukes from becoming reality, according to Maxton Lukes '23, "Every rehearsal, we used to practice this interaction between Corin and I to make sure it looked realistic and was performed safely."
Reporting by Caitlyn Sebastian '23. Photo by Alexis Frenda '23.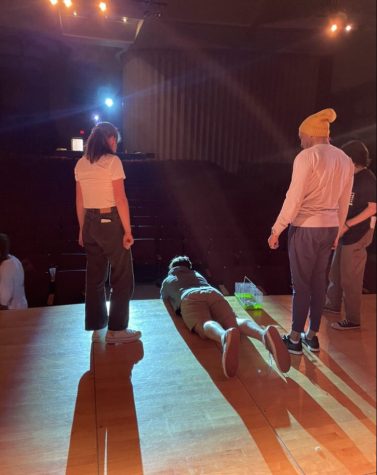 In the train station, Christopher Boone searches for Toby, his pet rat, by hanging off the stage, over the train tracks, truly emphasizing the difference between Christopher's thought process and the thinking of others. This scene also adds an element of levity and chaos. Georgia Kissel '25 comments that "This scene was so fun to do because of the utter chaos; while some of the other scenes are more serious and slow, this was a fun way to add some humor and pacing into the show."
Reporting by Caitlyn Sebastian '23. Photo by Alexis Frenda '23.
While the cast is on stage performing, crew members prep the props that are about to be brought on stage, making sure everything is in place and going according to plan. Addison Dunn '24 describes her experience as stage crew, saying, "being backstage has been so much fun, and the feeling of teamwork when we move different things around stage can not be replaced. Being backstage manager presents its challenges because I really need to pay attention so nothing is out of place or we miss any cues, but it is so much fun to work with my friends and take part in such cool play."
Reporting by Caitlyn Sebastian '23. Photo by Jane Holmes '23.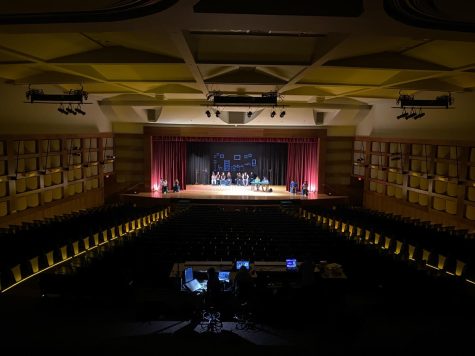 After weeks of rehearsals, the cast, crew, and tech were finally ready to perform the production. The team of talented students worked together to create an amazing performance.
Ava Highland '24 discusses her role on tech and how well the show came together. "I love being a part of tech, specifically doing spotlight, because we get to help tell the story in a way that people often forget about. I love getting to highlight different parts of scenes and also being able to see the show come together! Everyone worked really hard and put on four awesome performances!!"
Reporting by Caitlyn Sebastian '23. Photo by Ava Highland '24.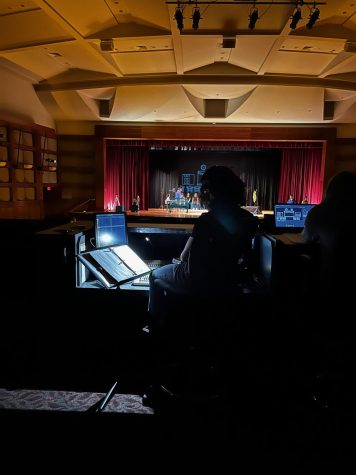 The members of tech tirelessly worked to add sound and lighting to the production, both critical elements to a performance. Lucian Spiteri '26 discusses his experience doing tech and the importance of his role. "I really enjoyed doing tech because I got to meet a bunch of cool people. My role within the play was to design the lighting and run the lights during the production. This is a very important role because lighting helps to set the mood of the play as well as the time it takes place."
Reporting by Caitlyn Sebastian '23. Photo by Jane Holmes '23.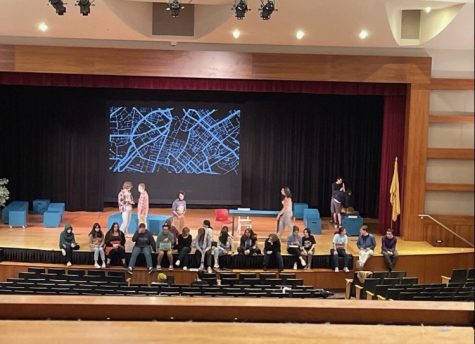 The overall production was absolutely stellar. The talented members of the crew and cast amazingly handled such a difficult play.
Matthias Cutler '23 discusses some of the challenges they faced. "Working on the play this year was a difficult yet highly rewarding experience. We got set pieces late, had a week where we had to cancel rehearsals because a majority of the cast was sick, and had a cast member move schools halfway through rehearsals. Overall, we could not have done it if all of the show's tech crew and actors were not as awesome as they were. This show built community through acting, as we all worked together to have a meaningful final product."
Reporting by Caitlyn Sebastian '23. Photo by. Alexis Frenda '23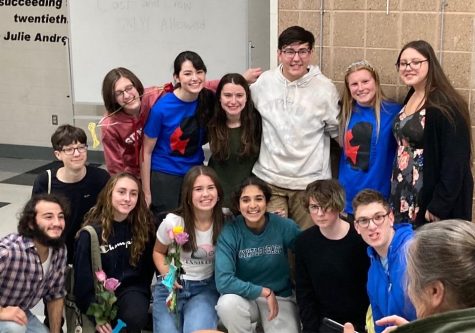 Many of the cast and crew gather together for a last minute picture after their final performance, a fitting end to an amazing experience. For all the seniors, this was their last play production in high school, causing many emotions to arise.
Corin DeStefano '23 talks about his feelings on this occasion, "Overall, I'm really happy that this was my last show at BHS. It took a while to come together, but once it did, I ended up much more proud of it than I'd imagined. The end didn't make me too emotional, but I know that's what the musical is for."
Alexis Frenda '23 similarly comments, "The cast and crew are like my second family, so I am sad to leave them, but I am saving my tears until after the musical."
Reporting by Caitlyn Sebastian '23. Photo by Gabe Scotton '25.
Leave a Comment