Boys and Girls Lacrosse Recap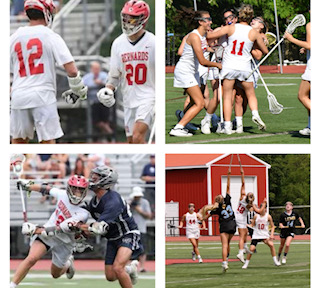 The Bernards High School boys and girls lacrosse teams have reached success in the 2021 spring season, and their respective achievements are noteworthy. 
With a 17-2 record, the boys team finished at No.1 in the Bianchi Division, and No. 7 in the NJILL Conference. Starting off the season on April 20th with an 18-1 win against Governor Livingston, 3 Bernards players, Zach Zukowsky, Braden Fitzsimmons, and Harry Kauffman, netted 4 goals each. Matt Sardis went 18 for 18 in faceoffs, and Nick Paterno had 4 saves in goal. By April 26th, the team went on a 15-0 stretch, averaging 14.3 goals scored per game, and 2.9 allowed. One standout game was their 13-5 win over Basking Ridge on May 25th. David Brothers, Harry Kauffman, and Braden Fitzsimmons each scored 3 goals, Zach Zukowsky had 4, and Patrick Caldwell had 3 assists. 
The Bernards boys lacrosse team began the NJSIAA Tournament against Lower Cape May with a 20-4 win. Then they beat New Providence 13-0 in the quarterfinals, and Shore 10-4 in the semis. While their season ended in the finals against Manasquan, they proved to be a formidable team. With seniors making up half of their squad, their leadership has contributed to driving their success. 
Finishing with a 9-8 overall record, the girls team ended at No. 3 in the Raritan Division, and No. 10 in the Skyland Conference. They banked their first win on April 22nd away at Gill St. Bernards with a score of 16-9. Annie Cannan and Kelsey Klein each had 4 goals, and Casey Falduto and Anna Gonella had 3 each. While the team had a choppy win pattern, their longest stretch of success was 6 consecutive wins. In that stint, they beat a tough opponent, North Hunterdon, 14-11. Libby TenBarge netted 4 goals, and Casey Falduto had 3. Kelsey Klein contributed 2 goals and 2 assists. Like the boys team, the girls have a very senior driven team. Seniors Canaan, Klein, Falduto, TenBarge, and Gonella controlled the attack, and led the team in leadership. 
The Bernards girls lacrosse team began the NJSIAA Tournament against Lower Cape May with a 19-6 win. Then they moved on to the quarterfinal, and beat New Providence 10-7. While the team's season ended in the semifinals against Haddonfield, they maintained a .529 win percentage for the overall season. 
After missing out on a season last year, both Bernards lacrosse teams were energized to "begin again", per the girls team motto. While they did not achieve their final Tournament goals, both teams had a successful season in their own right, and look to continue their growth in the seasons to come.