Summer Olympics postponed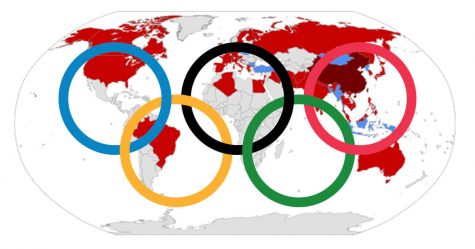 The Tokyo 2020 Olympics were postponed due to the novel Coronavirus. During a phone call with the head IOC, Japan announced they will postpone the Olympics until the COVID-19 suppresses.
At the very latest, they will end up hosting the Olympics in the summer of 2021. Abe, the prime minister of Japan, told NBC Sports "Considering the current situation, in regards to the Tokyo Games, as the host nation, in order to ensure that athletes from all over the world are able to compete in their best condition, and also in order to ensure the utmost safety for the spectators, I have asked him to consider postponing the games by about a year," Abe added. 
Students across BHS are still shocked about the canceling of the ever so entertaining summer Olympics. Senior Hugo Gini said "Man I'm upset. Watching those Michael Phelp swims and Simone Biles flips are just so intriguing to watch."
The virus has forced millions of people around the world to isolate and it has claimed more than 20,000 lives. The Olympics is the most major event to be canceled by the pandemic so far and may end up being the biggest one. People all across the world come together for a summer of competition and it not only brings our country together but the whole world together. Since World War II in 1944, this has been the biggest disruption to the Olympics and will continue to be for a while. 
Mac Myrtetus, Senior at BHS, said "It does not really affect me. I've never been a big Olympic watcher but it still stinks."
As far as Olympic participants, Double super-heavyweight judo champion Teddy Riner addressed his thoughts on Instagram, "First, we have a more important fight to win" referring to stopping COVID-19. Riner, who lost his 10-year unbeaten record in Paris in February, turns 31 next month.
Lilly King, the double Olympic gold medalist from Rio in 2016, said on Instagram "Just one more year to get better." 
With the cancellation of the summer games, the Olympics committee has one year to set a date before they would have to cancel the whole competition.