2020 boys basketball season heats up
With a 6-17 record last year, Boys Basketball looks to improve tremendously with four returning Seniors and a solid stack of Juniors.
James Vandenherik, Ryan Bonar, Eddy Gambelli, and Chris Cody will all be returning for their final year. Cody and Gambelli will take on the leadership roles as Captains for the 2019-20 year. Gambelli spoke on improvement and potential, he said, "I think we still have room to get better and I believe we can make a lot of noise in our conference and county."
Bernards Boys Basketball tipped off their season against Delaware Valley on December 19th. The game was close the whole way but Del Val pulled away with a 42-38 win. It was a rocky start to the year but the potential was there.
The boys faced Cedar Grove next on the 23rd and secured their first win of the season. Andrew Holmes led the way with 16 points and Eddy Gambelli followed up with 8. Although the first win was huge, a rough loss to Verona on the 30th was not the way to start the new year.
Bound Brook and Voorhees were up next and as Coach Palek said, "Those two games have been our best performances all year."
Bound Brook was actually a 61-59 loss, but Bernards showed great ball movement and was able to get the offense going. Holmes led the way again with 21 points but the whole starting five was consistent. Andrew Infusino and Eliot Dietrich with 13 and 12 in addition to a couple of threes from James Vandenherik.
Bernards took down Voorhees on January 4th by a score of 33-28. Without offense, the team needed to lock up on defense in which they did and held Voorhees to only 28 points. Dietrich sunk two threes and finished with 9 points. Vandenherik also had a triple and finished with 5 points.
Bernards will play every team twice and is looking for revenge against Bound Brook on January 18th. Games to watch are Boonton and Brearly on January 25th and 27th as the Mountaineers only play them once this year.
When talking to Coach Palek about the teams work effort, he said, "I'm encouraged by the team's attitude and toughness and feel that with a continued focus on improving the wins should begin to follow."
The team adva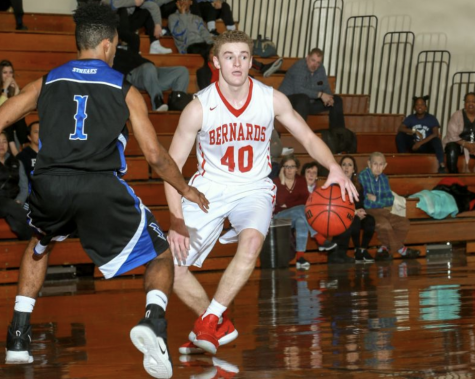 nced to 3-3 after a 43-35 win against North Plainfield. Edward Gambelli led the team with 12 points, Andrew Infusino with 10 points, and James Vandenherik with 9 points.
After a two-game win streak, the team lost to Raritan 41-35. They had a lead going into the fourth quarter, but unfortunately was unable to hang on. Andrew Holmes was the leading scorer with 12 points, Andrew Infusino with 10, and Eddy Gambelli with 9.
After suffering a heartbreaking loss versus Raritan, the boys came out and completely controlled the game against Warren Hills defeating them 63-40. Elliot Dietrich had a  double double with 19 points and 10 rebounds, and Gambelli contributed with 13 points, Infusino with 9, and James Gurrero back from injury had 8 points.
The rest of the year is about to follow and with a 4-4 start, the team looks to do damage.