Disney Plus makes it's streaming debut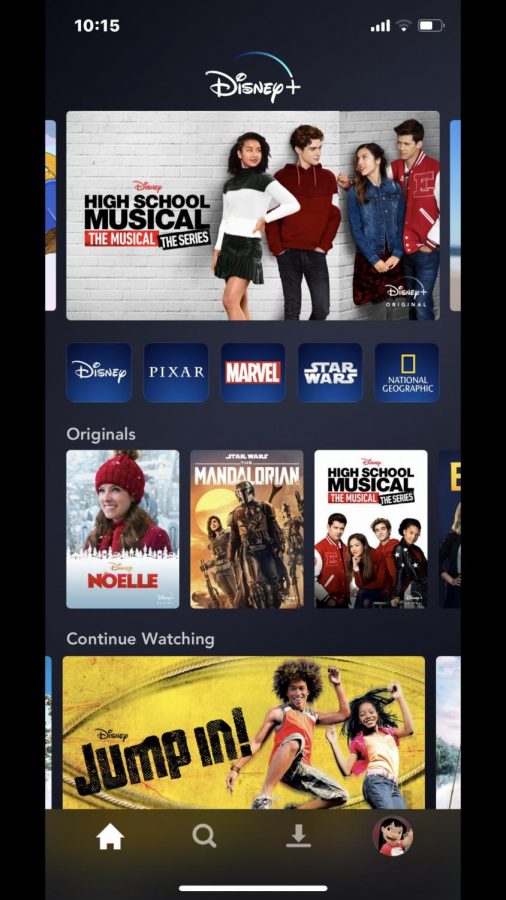 Alivia Maset 23'
When thinking of a streaming network, the first thing that comes to most people's minds is usually when Netflix's bolded red logo appears brightly in the midst of their black screen, or maybe it's when they're scrolling through Amazon Prime's endless amount of entertainment services to find that one movie they've been dying to see. Usually a Disney streaming service doesn't come to mind…right? This may come as a surprise, but in fact two years ago a Disney executive, Robert A. Iger, made the bold decision of proposing something never before seen in the history of their internationally known company.
His pitch was a streaming network named Disney Plus, specifically designed to display a wide range of Disney's movies/shows ever released. Iger's objective at the time seemed like too much of a monumental proposition for a company with absolutely no streaming experience to pull off.
When interviewing with The New York Times, Iger stated, "We're going to launch big, and we're going to launch hot." Even though they were well versed in making extravagant rides, impeccable firework shows, top notch parades, and better yet, entire castles crafted as realistically as possible, they had little knowledge about producing their own streaming network. At the thought of this new idea, top competitors such as Netflix, Amazon Prime, and other traditional opposing companies doubted the bold idea.
Although for Disney, the thought of a brand service became more and more attainable as time went on. With the power of marketing, Disney began to grasp the attention of their beloved fans using multiple methods. Buses, cruises, pep rallies, and shirts were used to flaunt their new product. On cruises, the company decided to preview showings of the upcoming program to persuade those onboard to subscribe to the network.
In addition, stores began to equip their employees with lanyards fabricated with a QR code that shoppers can scan on their phones, immediately taking them to the Disney Plus sign up page. Disney is also using their social media platforms as another way of marketing their device.
The final product, Disney Plus, was fully released to the world November 12, 2019. Disney Plus costs a total of $7 a month, and offers a variety of movies and shows from six individual brands: Disney, Marvel, "Star Wars", Pixar, National Geographic, and "The Simpsons." Another "plus", is those who purchased unlimited data under Verizon will get full year of Disney Plus for free.
Sydney Osborne, a freshman who has the current release said, "Disney Plus is a wonderful network perfect for accessing all your childhood favorites, including a wide range of movie and TV show classics."
Disney Plus could be a streaming service breakthrough, which is pretty much what's beginning to occur, and has the potential to possibly outrun other superior networks typically beloved by society. So, let's see, could Disney change the way we view streaming services in the long run?