New theatre director comes to BHS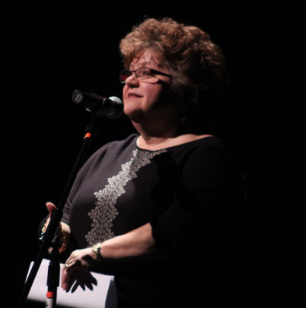 After a long search, Dr. Neigel has hired Dr. Susan Speidel, a theatre teacher and manager, to become Bernards High School's new theatre director.
When the former director, Mr. Tomaino, announced last year's spring musical The Addams Family was going to be his last show at the school, Dr. Neigel understood that he had big shoes to fill.
"It was extremely important," said Dr. Neigel. "I've just been so thrilled with the growth of the theatre department. The fall play and musical made such big strides the last seven years that it was the utmost importance to build on that." 
This understanding was mutual between the principal and the actors themselves, many of whom who had found a big influence and mentor in Mr. Tomaino.
"Mr. T not only had an enormous impact on my growth and my craft," said junior Naomi Taylor, "but he also helped me grow emotionally. It's extremely important to have an emotional connection with your students, especially an acting student."
Once the Spring musical ended, Neigel got to work reaching out to potential candidates interested in the directorship. A small group of parents, students, and teachers involved in the shows began prepping interview questions all looking for someone capable of filling the massive shoes left by Mr. T.
Dr. Neigel found his ideal candidate in Dr. Susan Speidel.
Speidel, a drama teacher as well as a former theatre manager, is instrumental in New Jersey theatre. Most notable is her work at Morristown-Beard School, and her work at the nationally-accredited Paper Mill Playhouse. In each instance she left the programs better than when she arrived, creating multiple theatre arts and choir courses at Morristown-Beard, and founding of the Rising Star Awards at Paper Mill, the much-coveted prize for outstanding acting given to high school actors.
"I simply can't wait to meet and work with everyone," Speidel said at the fall play interest meeting.
Such a new face in the program still calls for some questions among students, as some are unsure about what a new director will mean for their extracurricular.
"After having Mr. T at Bernards for eight years, I believe the transition to a new director may have its challenges," commented junior Jack Hicks. "But considering Dr. Speidel's experience in the field, it will no doubt be a smooth one."
Change can be nerve-wracking for people who are so used to consistency for so long. Mr. Tomaino had directed the fall play and spring musical at BHS since 2011, and Dr. Speidel has some very clear ideas about what she'd like to introduce to BHS theatre.
Despite the questions of some, many students remain excited about the change.
"A new director brings a new perspective!" said sophomore Maggie Paul. "I can't wait to start rehearsals and learn more about theatre from a new perspective."