Is the media lacking racial diversity?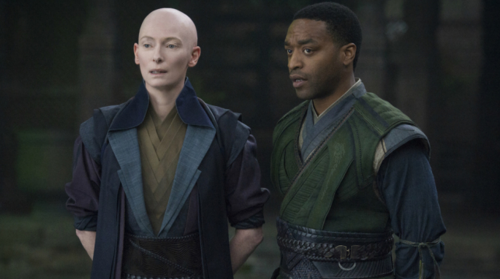 Hang on for a minute...we're trying to find some more stories you might like.
Recently coming out in November of 2016, Doctor Strange was yet another Marvel movie set for surefire success. However, controversy struck after critics began calling out the film for casting Tilda Swinton, a prominent caucasian actress, for the role of the Ancient One, a Tibetan monk.
As Rob Chan of MANAA, an Asian American media group, said in his interview with Variety magazine, "…there was no reason a monk in Nepal could not be Asian." While casting directors claimed that having a woman fill the role was an act to diversify the movie itself, whitewashing has been a prominent issue in movies and television for decades.
Type casting has always existed in movies, plays, music videos, and many other forms of media which reach a large audience. These roles often portray stereotypes, exploiting roles stereotypically filled by a certain race. This was shown in the casting call for the "Straight Outta Compton" music video, which called for "light-skinned, long-haired" girls to play the roles of the desirable women in the script.
In order for this problem to be fixed, a focus needs to be be drawn on the idea of hiring more people of color. Doing so would allow for a more even representation of people globally, and would provide an opportunity for all children to see people of a similar race playing powerful roles.
Of course, a focus on acting ability is still expected in the media industry, as talent in a role is essential for portraying the character. When asked to comment, Jameson Matinho said, "Honestly I think that in the movie business acting ability trumps fitting a designated race for a role."
However, it can hardly be argued that there is a lack of talent held by people of color in the acting industry, who could certainly fill the type roles being filled by white actors. Whitewashing is a huge problem, as it leads to the preference of white actors for roles representing other races. By being aware of this problem and actively working against it, a more fair representation of race could potentially be allowed.
This could help to avoid problems seen in movies such as "Gods of Egypt", which cast the vast majority of its Egyptian characters as white actors. With Nikolaj Coster-Waldau, a man from Denmark cast as the lead role of an Egyptian god. This was pointed out by Scott Mendelson of Forbes Magazine, who asked Lionsgate to respond to this scandal. They admitted their wrongdoings, and said "In this instance we failed to live up to our own standards of sensitivity and diversity, for which we sincerely apologize,". Holding large companies like Lionsgate responsible for these mishaps is certainly a step in the right direction.
"If a person is being cast for a role from a certain place, it makes sense to cast them with that in mind," Caroline Casella said. This is definitely an important thing for casting directors to keep in mind, as large box office movies and television shows are able to reach a wide array of people and affect the way that they think about certain races. Diversity presence should become a focus moving forward, as filling the roles of people of color with white actors is not doing the production, or the world, any favors.