Debate Team's Crucial Debate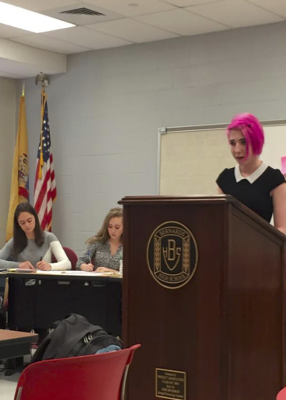 Hang on for a minute...we're trying to find some more stories you might like.
Debate Team had been preparing since September for their first major debate, and it occurred on December 6th in Room D-201 and on December 8th, 13th, and 15th after school in the Community Room.
The resolution for this debate was: In US public K-12 schools, the probable cause standard ought to apply to searches of students. Teachers and administration from Ms. Cerza's debate class were invited to serve as judges for this round and next season, the team is planning on inviting members of the community to serve as judges.
In the debate on December 8th, it was Meredith Hespe and Maddy Miller against Caroline Leanza and Hannah Ferrara. Hannah and Caroline won this debate and advanced to the December 13th debate against James Hardy and Donny Meyer. Ben Wolff and Justin Fuls also debated, going against Raghave Tulasiram.
Ben and Justin won this debate. One of the participants of the first debate, Meredith Hespe, is enthusiastic about Debate Team in general. She says that "It's really an invigorating experience to not only learn how to formulate arguments on issues that are really important to our future, but to also display them on a public level".
Teacher Ms. Cerza is in charge of the team, and she and the team's members were very enthusiastic about these crucial debates and about the team this year in general. There are twenty students on the fall season of the team and Ms. Cerza "lost a lot of Senior debaters last year, and was so pleased twenty kids signed up during activity week".
She sees the team steadily grow in participation every year, which is exciting for her and the team. The current team is made up of a variety of students who have been very involved, attending weekly meetings. Ms. Cerza explains that "some new members have taken my elective course last year, and some kids have had no experience at all and are just interested and enthusiastic about arguing and learning the skills".
Students, staff and community members were invited to attend the after school event especially since the resolution introduced an important controversy that is relevant to all students in our district's schools.
Ms. Cerza urged many to attend this event, and for those that attended, it was great way to show support for the debate team and all their hard work.
For those interested in joining the Debate team, it's not too late! Sign-ups for the winter season will be the week of 12/21. Any students interested in participating or judging in the winter (January to February) or spring (March to April) season, see Ms. Cerza. No experience is necessary!